Home
>
Products
>
Coil Packing Machine
>
Wire coil wrapping machine
>
Stel wire coil wrapping machinery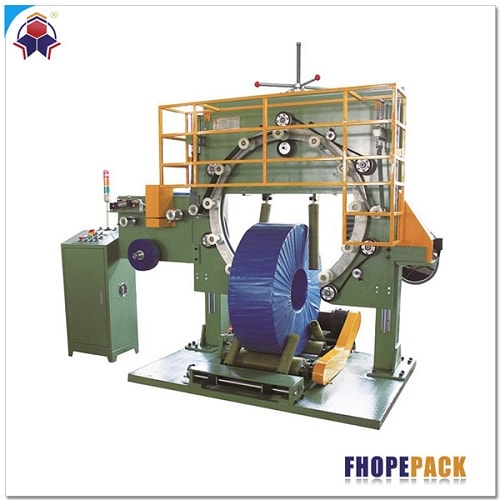 FHOPE is a pioneer in the coil packaging machine solution. The big wire coil size range packing solution is avaialbe from width:20-3000mm by upstopped development in technology and technique. This wire coil wrapping machine is flexible to change the form and structure to meet our customers' needs.
Description:
This is an floor stationary type wire coil wrapping machine. It was designed mainly used to pack the steel wire coil, copper coil on floor level handling... It is an good price equipment for saving labor, improving product protection. By ring rotation and roller turning, the packing material was wrap on the surface of the wire coil.

Features:
1. PLC & HMI for automatic operation.
2. Lew working table height for easy loading and unloading on floor.
3. Automatiac strat and stop the wrapping
4. The converter is adopted to adjust the speed of the ring and rollers
5. Overlap of the packing tape according to requirement.
6. Automatic material cutting.
7. Guardrails, soft starts and stop for safety operation.
8. Height of the machine adjusted by manually to fix for different coil OD and ID.
9. Packaging tension is adjustable by special breaker in the film roll
10. The rollers covered with PU that is to protect the surface of the wire coils.
11.Indicator alarms automatically when trouble occurs. Trouble can be shown automatically.
12. Two type packing material fixing way: On ring or Next to wrapping station.
13. Widely packing material applicable.

Parameters:
FPW-400
Voltage (V/Hz)
380v 50Hz 3Phase
Power (KW)
1.5kw
Steel wire coil ID(mm)
>300
Steel wire coil OD(mm)
600-1200
Steel wire coil width(mm)
40-400mm
Steel wire coil Weight(Kg)
40-400kg
Packing material
PVC/LLDPE/PE/PAPER/HDPE
ID:50mm OD:100-250mm Width:100-300mm
Overlapping rate
10%-90%
Air supply.
4-6 bar
All the data and details will be typed into the control system. For starting the coil wrapping, only input the coil data on the screem. Users can easily view and input the OD, ID and Width. The wire loading and unloading way by manully pushing or rolling. That is no need the crane or forklifter.
This is an economic version for two layer's packing material packing at the some time to improving the wrapping speed.
CONTACT US