Home
>
Products
>
Coil Packing Machine
>
Cable packing machine
>
Wire cable wrapping machine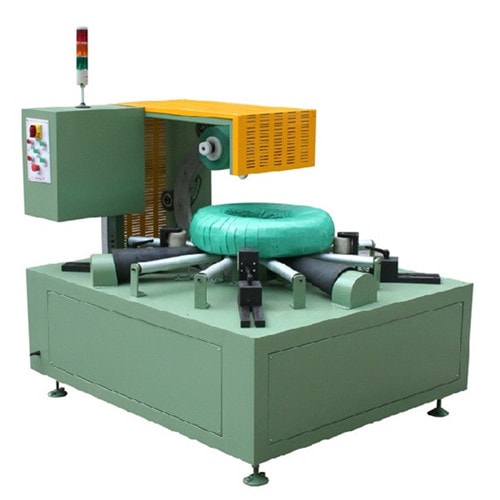 Multifunctional wire cable coil wrapping machine:
The FPCA-300 works for big size cable coil wrapping. For this purpose, the packing material and raletive device was designed for two layers wrapping. Normally is stretch film+paper/woven. In the wrapping, the surface material can be film or paper/woven per packaging goal. For smaller the machine size, there is compactive space version to save the space that the control board was installed inside the wroking table.
Description:

FPCA series cable packaging machine is mainly suitable for cable coil and other packaging, high cable winding machine FPCA 300 efficiency, beautiful packaging, saving labor and material cost.
It can also be customized according to the requirements of mechanical specifications.
Features:
1. PLC & HMI and Inverters
2. Manually coil load and unloading on working table.
3. Speed adjustment through the Hz adjusting in inverter
4. Overlap changing by changing the roller or ring speed.
5. The supprotive roller guiding the cable coil rotating in th center of the wrapping position.
6. Widely packing material applicable.
7. Easy packing material reloading.
8. Easy to continue the wrapping while the packing material finished.
9. Sensor for checking the ring position, wrapping steps.
Parameters:
| | |
| --- | --- |
| | FPCA-300 |
| Power Supply (V/Hz) | AC 380/60Hz( or your requirement) |
| Power (KW) | 2.4 |
| Cable coil ID (mm) | 250-510 |
| Cable coil OD (mm) | 400-900 |
| Cable coil width (mm) | 60-300 |
| Cable coil Weight (Kg) | 20-200 |
| Packaging material | LLDPE/PVC/PE FILM/Paper |
| Ring speed(r/min) | 10-90 |
| Wrapping speed | 20-38sec/pcs |
| Overlapping persent | 10-90% |
Providing the cost effictive cable coil packing not only include the machine but also supportive and after serviec.
The machine includes 1 years wanrantee.
Free long distance remote control and trouble shooting.
CONTACT US