Home
>
Products
>
Coil Packing Machine
>
Cable packing machine
>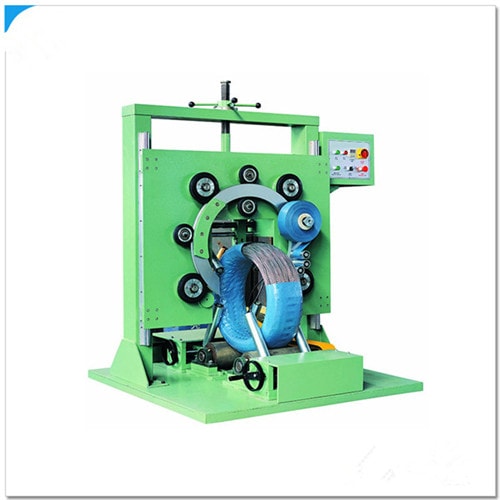 Description:
FPCW series cable packaging machine is mainly suitable for cable coil and other packaging, high cable winding machine FPCA 300 efficiency, beautiful packaging, saving labor and material cost.
It can also be customized according to the requirements of mechanical specifications
Features:
1. PLC & HMI for automatic operation, which makes online operation.
2. Special system for easy loading and unloading.
3. Manual and automatic working mode for easy operation.
4. The converter is adopted to adjust the speed of the ring and rollers
5. Different packing material adopted.
6.
Automatic material cutting.
7.
Guardrails for operation safety, soft starts and stop control by inverter.
8.Central positioning function for both small and big coil packaging
9.
Packaging tension control by special designed breaker.
10. Different packing material applicable for packing.
11.
Indicator alarms automatically by light. shown trouble automatically.
12. Special brake in the film release device for avoiding material folding.
Note: Can be designed according your specification.
Advantage of cable coil wrapper:
1. High speed upt0 15-20sec/min.
2. Package nice and good.
3. Save material
4. Good protection for transportation.
5. Good for selling
6. Less maintain
7. Easy operation
CONTACT US