Home
>
Products
>
Coil Packing Machine
>
Cable packing machine
>
Cable wire wrapping machine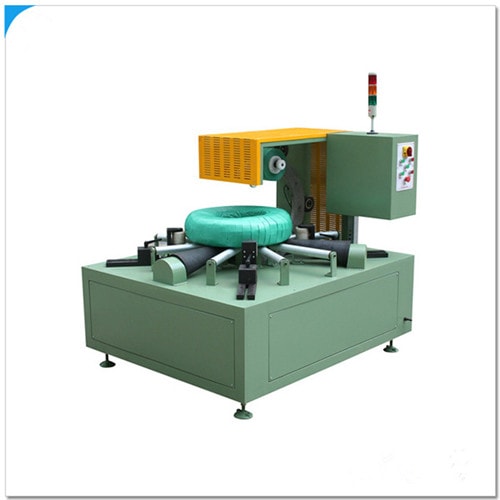 Cable coil wrapping machine designed for small ID cable coil film packing:
The Min ID of the cable coil can be wrapping by film is 90mm only, which is high speed packing safety. There are many cable coil packaging solutions available for the wire cable production industry. Our goal is to providing the innovative, cost efficient packing machine to resolve the problems in labor cost raising and labor shortage. Our sengineering team help to provide the protective packaging system for your application that saving your 80% labor in packaging process.
Description:
FPCA series horizontal tpe
cable packing machine
is packing the cable coil, copper coil, steel coil... per eye to sky position. The supportive roller 360 rotation the coil without position shifting by supportive rollers.
Features:
1. Easy operation for non skill operator .
2. Different cable info and specifications stored on program for packing choosing.
3. Press down device for holding the coil in wrapping.
4. Manually loading and unloading coil easily.
5. Ring speed adjustable from 1-100r per minute.
6. Ring structure strong and durable
7. PU surface in supportive rolls, driving rollers.
8. Overlapping rate: 20-80%
9. Special designed for small cable coil ID
10. overcurrent protection
11. Shield and fence for operation safety
12. Automatic packing machinery cutting and feeding
13. Derived supportive roller for turning.
14. Adopting 4 groups of electric arm to adjust, including adjusting wire reel size and collating winding center point.
15.Indicator alarms automatically when trouble occurs. Trouble can be shown automatically.
16. Encoder for checking the roller speed and coil positioning
17. Packing material: LLDPE and PVC fixs on the ring
Voltage (V/Hz) AC 380/60( or your requirement)
Power supply(KW) 1.8
Cable coil ID(mm) 90-250
Cable coil OD(mm) 150-400
Cable coil width(mm) 50-180
Cable coil Weight(Kg) 2-30
Packing material PE/Stretch film/pvc
Ring speed(r/min) 10-120
Wrapping speed 18-30sec/pcs
Overlapping rate 20-90%
Contact with our team for free consultation about the cable wire coil packing solution.
CONTACT US