Hydraulic upender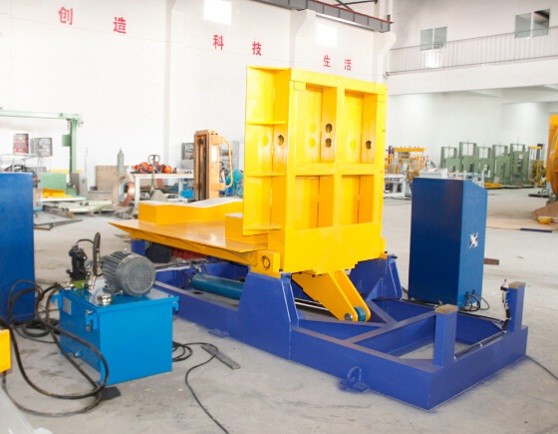 Description::
Hydraulic upender/Tilter mainly apply to turn heavy objects in operation. The equipment including heavy structure and hydraulic station.
The machine can be custom-build according client's requirement.
1.Drive system is hydraulic
2.The conveyor with rollers
3. Connect with conveyor for object taking
Features of Hydraulic upender:
1. Hydraulic upender with heavy structure.
2. Reliable hydraulic station.
3. The speed with Fast ,stable for safety.
4. There are two displacement restrictors adopted which grantee a safety operation.
5. Both hydraulic way for safety operation
6. Emergence stop and position locking function avoid rotation.
Control:
1. Control box or remote control by manually.
2. Speed adjustable.
Parameters:
FPCT-03
FPCT-10
FPCT-20
FPCT-40
Power Supply (V/Hz)
AC 380/50( or your requirement)
Power consumption (KW)
0.45
0.45
0.75
0.75
Max. Loading
3T
10T
30T
40T
Speed (sec/set)
20-40
20-40
20-40
20-50
Handling Equipment--hydraulic tilter, upender design and manufacture takes place in our headquarters in Shanghai, China. Sales, service and world wide customer support is handled through our office by our enginner.

| | | | |
| --- | --- | --- | --- |
| | | | |
| We are providing handling systems for handling packages, which including robots systems, down ender, tilter... solutions as well as end of line also available. | Steel coil titler work with wrappingng and sealing systems to fully integrated coil packaging solutions. Specializing in handling the heavy packages, such as aluminum strip, copper... | Fhoepack is a manufacturer of all types of mold tilter, upneder, coil handling technology, specialized bundling steel coil, Besides, there are wrapping, strapping, and fasteners. | Quality is a way of life at wire coil upender, from the products we make to the worldwide service we provide. Our support team listens to your needs and helps you find the right solutions for wire coil handling |
Related machines: Coil Upender Steel coil tilter
Coil tilter Coil packing machine Coil transfer car
Video
Send Inquiry
Contact us