Upender and tilter with sliding table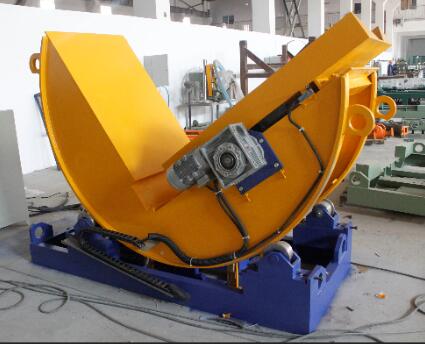 Description:
FHOPE supplies up ending solution, Coil tilter/coil upender was applied for cable/steel/mould industries.
Our sales, equipment service, customer service and engineering departments can help you design the optimum protective packaging system for your application.
Features:
Individual control panel and electric box.
Inverter for speed adjusting.
Steady contracture, with worm speed reducer.
Electric and Mechanical restrictors adopted to ensure a safety operation.
Positioning locking function make machine stop at any situations.
Easy daily maintaining.
Position fixing when power off for safety operation.
Strong and durable machine structure.
With slid table system: control horizontal direction of outward stretching movement.
Facilitate the movement of objects on the surface of the machine.
Parameters:
Wire Coil size: OD:1400mm Width:1200mm
Working table: 1400x1200mm
Max loading: 5T
Turn-over speed: 60-90secs
Power output: approx. 1.5kw
Perspective: 90º single way turn-over
Power voltage: AC 380V, 60HZ
This Mechanical Upenders are occasionally termed as coil positioners since they twist the products and are utilized in a variety of production and safekeeping applications for spinning, turning, or setting heavy or delicate loads. Upenders are obtainable with Electric or Hydraulic drive systems and are furnished with a heavyweight brake to put a stop to the load in any position. The Upender lifts and it uses products to make them more obtainable during manufacturing and gathering for a secure work environment lessening the dangers for manual labor. Upenders have been accomplished in numerous steel handling applications.