Coil upender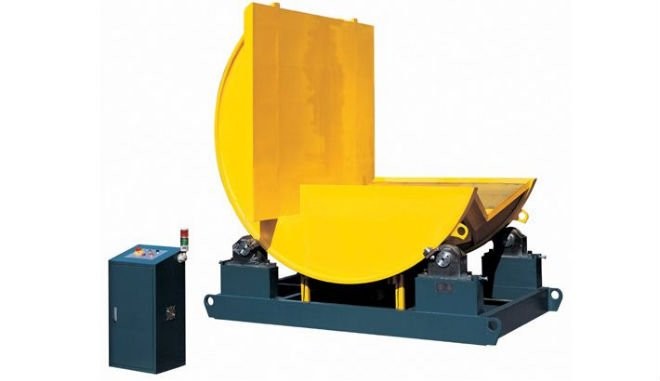 Description:
Coil upender/Coil Tilter mainly apply to turn the objects in metallurgical industry. It also widely used in the module up-ending, coil turning, modules upending, roll upending... machine in above pictures is for steel coil, wire coil, aluminum coil...
The machine can be custom-build according client's requirement.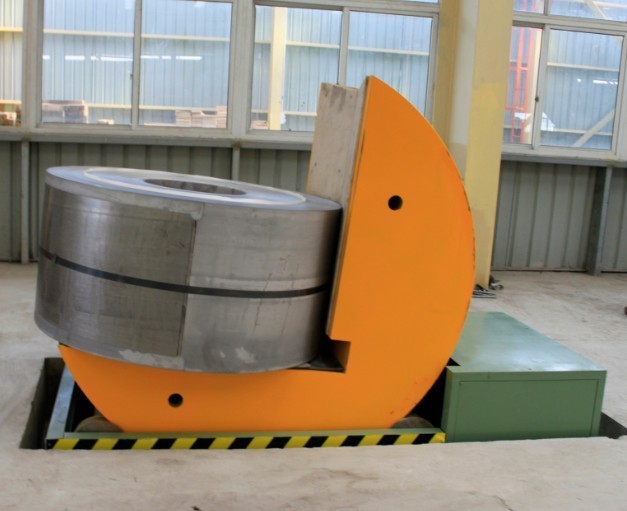 1.Drive system can be hydraulic
2.The conveyor can be connecting
Features of Coil up ender:
1. Special designed, oblique gear and worm speed reducer with heavy structure.
2. Heavy designed Four-roller device wrapped with polyamide adhesive.
3. Inverter controls the speed with Fast ,stable for safety.
4. There are two displacement restrictors adopted which grantee a safety operation.
5. Auto-Locking function allow machine can be stop at any angle in turning.
6. Emergence stop and position locking function avoid rotation.
7. Pallet center device for differences size of pallet.
Control:
1. Control box or remote control by manually.
2. Invertors for adjusting the speed
Parameters:
FPCT-03
FPCT-05
FPCT-10
FPCT-20
Power Supply (V/Hz)
AC 380/50( or your requirement)
Power consumption (KW)
1.3
2.0
4.5
7.8
Max. Loading
3T
5T
10T
20T
Speed (sec/set)
20-40
20-40
20-40
20-50

Upender Operation:
1. Do check if the external power supply and the earth wire are reliable.
2. Switch the "power" and "emergency stop" button, the light of "Power lamp" on.
3. Restore the machine to the original state. Means the machine is in the "Reset" position.
4. Next working procedure can be executed after all the above basic steps finished,
5. Place the object on the center of the working surface using hanger or lift truck. This step must be operated carefully to avoid the collision of the object and the machine.
6. Switch the button to "Turn" position and the machine begin to turnover till finished.
7. Remove the object from the machine steadily by a lift truck. This operation should be careful to avoid collision of the object and the machine.
8. When the object has been completely removed from the machine safely, switch the button to "Reset" to restore the machine and prepare for the next operation.
9. Start next new turnover operation according to the above-mentioned process.

Video
Send Inquiry
Contact us