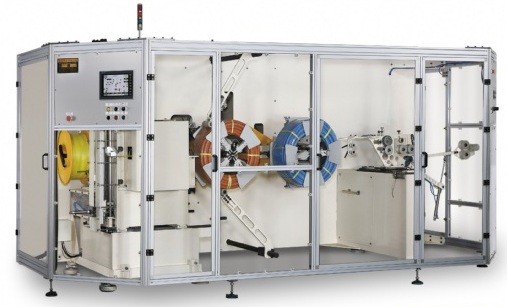 1) Function:
The automatic hose coiling machine is for automatic calculating the tube length, coil making and cutting. And then hold the tube coil to move it to the next procession station automatically. The figure can be set in the PLC control program.
2) Features:
1. PLC & HMI control program are used for automatic operation.
2. Parameters can be set on the control program with English.
3. Coiling OD adjustable.
4. Tube cutting length can be adjusted as setting.
5. Two protective guards to fix and move the coiled tube.
6. Automatic error detection function, it will alarm when trouble occurs.
7. Detecting the tube position automatic by sensor.
8. Pressing device making the tube coil fixed and stable.
3) Technical parameter:
Machine No.
FCL-600A
FCL-600B
FCL-600C
Coil size
OD: Φ300-400mm
Height: 40-120mm
ID: Φ200-300mm
OD: Φ400-600mm
Height: 40-200mm
ID: Φ250-400mm
OD: Φ400-800mm
Height: 100-300mm
ID: Φ250-600mm
Tube size
OD:2-16mm
OD: 10-20
OD:10-30
Air supply
6bar
Coil feed style mode
Hold coil type
Meter counter
0.01m-100m
Power voltage
AC 415V, 50HZ, 3 phase
(2) Automatic strapping machine
The strapping machine dispenses, tightens and seals polypropylene while coil in strapping position. The machine strap and joins the ends automatically with adjustable tensions by secure heat weld. The motor automatically gets switched off while strap is inserted.
Features:
1) Program control for automatic strapping.
2) Automatic positioning for different coils.
3) Tension adjustable for different pipe coil.
4) Connects with coiling machine.
5) Taper roll with lifting and downing function.