Coil transfer car
Description:
Coil Transfer Car for the moving the coil in metallurgical industry. It used in the coil slitting line, coil handling, coil packaging, coil stacking... It can be connects to the coil car of slitting line, coil turnstile and coil down ender to replace the crane handling...
The machine can be custom-build according client's requirement.
1.Safety operation system
2.Track with motor power
Features of Coil upender:
1. Special structure designed, lifting the coil, and turning the coil
2. Heavy designed driving device to transfer on ground track
3. Inverter for speed control
4. Manually and automatic control with limited sensor adopted for safety operation.
5. Automatic positioning in loading and unloading.
6. Emergence stop and position locking function.
Control:
1. Control box or remote control by manually.
2. Invertors for adjusting the speed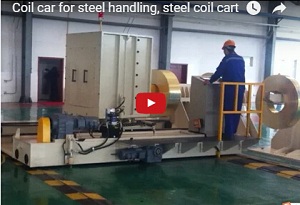 Parameters:
Max. Loading: 20T
Power: 380V 60Hz
Working mode: Semi/Auto
Transfer: By track
Turning degree: 360
Fhopepack is a manufacturer of high-performance, price-compatible coil transfer car with conveyor and coil car for all heavy steel. Digital speed controls and custom designs are available. There are two one warranty and all machine document file are included. The company's tilter are the result and experience of more than 15 years of design, manufacturing, and application. Products are proudly made in the China.
| | | | |
| --- | --- | --- | --- |
| | | | |
| Conveyor working table with tilter for heavy load handling. It is handling machine designed to upending and transfer the coil to connect the next operation process. | Our sales, equipment service, customer service and engineering departments can help you design the optimum protective coil tilter for your application | The mold tilter production by manufacturer with innovative, knowledgeable. Experience engineer team service for different handling requirement. From coil transfer coil to coil upender, turnstile... | From wire coil handling with pallet.Fhopepack provides designing, production installation and field commission. Including all after service. |
Related machines: Upender Steel coil tilter
Cable coil wrapping machine Copper coil wrapping machine
Video
Send Inquiry
Contact us