Upenders manufacturer|Tilter for sale
Description:
Coil Upender / Coil Tilter is mainly suitable for object reversal in metallurgical industry. It is also widely used in the module end of the above pictures, coil turning, module suspension, roller hang. Machine is used for coil, coil, aluminum coil to replace the manully coil handling and position turning.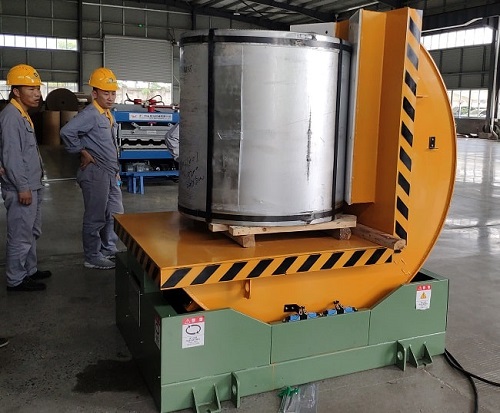 The machine can be customized according to the requirements of the customer for steel coil upending.

The driving system can be designed per different loading
The gear motor provides the power drive
Safety the opeartion by keeping the operator away from the coil turning position.
Mechnical strutch with reinforce band and special treatment in the turning body.
Features of Coil upender:
1. Special structural design, reliable helical gears and high-quality worm reducer.
2. The heavy-duty, four-roll device supports tilt.
3. The inverter controls the speed.
4. Safe operation using two displacement limiters and limited sensors.
5. The machine can be stopped at any angle even if the power is turned off.
6. Emergency stop and position lock function to avoid rotation.
7. Workbench can be made for each product.
8. Upgraded gear box for low noise and low wraing.
Control:
1. Control box or remote control by manually.
2. Invertors for adjusting the speed
Parameters:
FPCT-03
FPCT-05
FPCT-10
FPCT-20
Power Supply (V/Hz)
AC 380/50( or your requirement)
Power consumption (KW)
1.3
2.0
4.5
7.8
Max. Loading
3T
5T
10T
20T
Speed (sec/set)
20-40
20-40
20-40
20-50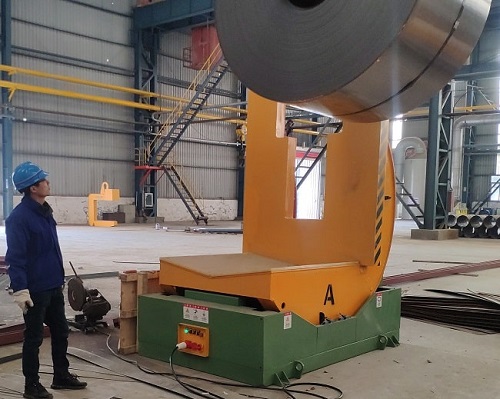 COIL UPENDER FOR SALE: Contact with our team for the amazing price.
Fhopepack is a high-performance, price-competitive solution manufacturer that provides conveyors and coil upender for all heavy steels. Digital speed control and custom designs are available.
There are two types of warranty, including all machine documentation files. The company's tilting machine is the result of more than 15 years of design, manufacturing and application. The product is proud to be made in China.
There are numerous Upenders m and tilter for saleand resources accessible to help with particular ways to maximize the worker safety by fetching daily audits and scheduling for betterment.
One way to make better safety is the usage of lifting stuff which is itemized among the best ergonomic best practices since the upending equipment lessens the requirement for lifting, turning.
The Upender makes the move large or delicate products easy and structured while securing workers and assisting to keep away workstation accidents.
As a manufacturer, FHOPE got rich experience on providing the coil upender to help the company in the steel industry to improve the worker security by the proper solution in the reasonable handling way and protection devices.