FHOPE Automatic steel tube packing machine
Description:
The tube will be filling into plastic bag by automatic bag forming and sealing machine.
Description:
For stainless steel tube, profile, bar, pvc pipe bag packing. It is an extremely flexible bagging machine for long objects, is able to handle a wide variety of long shape products which is reduced changing times for different size packaging.
Features:

A) The bagging machine is designed by quality motors in direct electrical axis.
B) The timing/synchronization is adjustable in tube packing machine according to the OD and length
C) Tube packing system optimized by PLC,it allows to largely increase the bagging production
D) Quality temperature precise control for a perfect bag sealing.
E) a high-speed bag forming system run by brushless motors.
F) High output.
G) Efficiency, functionality, minimal maintenance.
Technical date:
OD:10-60mm
Power supply:380v,50Hz
Air supply:6-8Bar
Bag packing speed:70m/min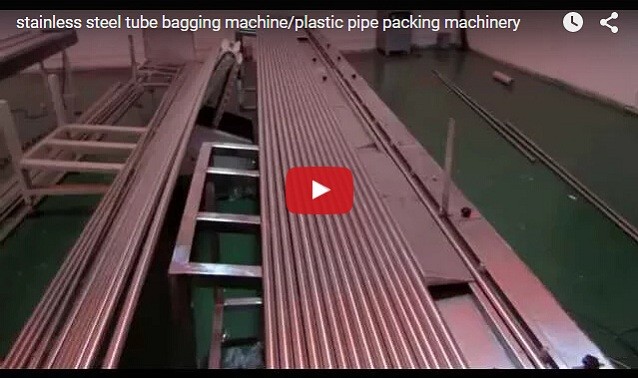 Automatic tube feeding+bagging machine
Tags:
Pipe bundling machine Pipe bagging machine Pipe bundle packing machine.
• Short delivery time of tube packaging machines, Providing online and engineer immediate and efficient after sales service.
• Total recycle Warranty : 1 years from the receiving of goods .
• Spare parts availability: 20 years for mechanical components, 10 years for electronic components, even if out of production.
• Designing and building tube automatic feeders, packing machines base one advanced technologically, rich experience.