Automatic PPR/PVC Pipe packing line
For plastic pipe/tube packaging
Pipe bundle machine

It is an automatic packing solution for pvc conduit, PPR, Upvc pipe...bundle making. Automatic pipe number counting, bundling, strapping...It can be connect with the extruder with online packaging process.

Pipe bag packing machine

Automatic filling the pipe bundle into bag. Both PE bag bagging solution and woven bagging machine can be designed per client's need. The greatly save your labor cost in package. The woven bagging machine seal the end by

Pipe bagging machine

The automatic single pipe bagging packaging solution for pipes, especially for decoration stainless steel pipe. There is able bagging the steel pipe with 10 pcs or more in a row one time. This is steel pipe packing
Description:
The design of the automatic PPR/PVC packing line is completely based on user's actual manufacturing needs. It is an PPR/PVC pipe bundling machine, pipe strapping machine, pipe bundle packing machine which aims to provide on line plastic packing solution. It is realize the following aspects.
Off-Line automatic pipe bundling and banding machine

One offline bundling machine is able works for 3-6 extruders for making the bundle.
The handling speed is Max.36000 PCS pipe per day.
Strapping head can be choose per speed requirement.
Online automatic bundling and banding machine
The online machine connects to the extruder for automatic gathering the pipe, counting, bundling making.
One extruder per online bundling machine.
Automatic pipe bundling and bagging machine
The pipe packing system is able online/offline with extruder for pipe counting, bundle making, strapping and bag filling.
The system can be designed per different bundle size, different bag material.

This automatic PPR/PVC packing line will have high reliability and low maintenance by optimizing the whole design and using reliable components. Packing line is able to design according your packing requirement. It is a set of efficient, convenient and safe wrapping machinery for pipe, pipe bundle packaging.

Easy for maintenance
We have made efforts in the following aspects to realize easy maintenance. First, we standardize the design with complete spare parts list.
Second, we continuously improve the monitoring software intelligence. By such improvement, the monitoring software can automatically check and find out the accurate position of machinery failures, and alarm audibly and visually. This is an effective way to improve self-checking ability and promote maintenance operators' efficiency in discovering and solving machinery problems.

High efficiency
Based on user's actual producing situation, automatic ppr/pvc packing line delays are reduced by specially designed software. System's flexibility is also improved,
which means that every processing position can open or close freely. The machine can be online packing. It reduces unnecessary waiting time.

Technical level
This automatic PPR/PVC pie packing line has been successfully applied in different plastic pipe enterprises and different production lines.
Continuous improvement and development make it reach a high technical level.
The equipment is for feeding (on line/off line) and counting the number of pipes before bundling.
Features:
a) Control by PLC program.
b) Sensor for positioning and detecting.
c) It is adjustable per pipe size.
d) Precise pipe counting and feeding system.
e) Buffer zone for more pipe feeding
Pipe Bundling machine
The pipe bundling machine includes automatic pipes aligning, stringing, strapping system.
Features:
a) Excellent collections. Well-known brands are adopted for main components.
b) Ring speed adjustable by converter.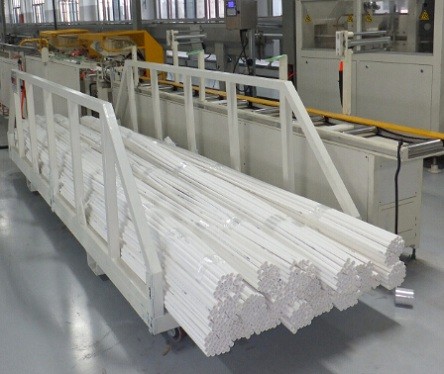 c) Roller speed adjustable by converter.
d) PLC&HMI program control.
e) Manual and automatic working mode can be choosing.
f) Pipe aligning device for keeping the orderly tip.
g) The pipes are parallel without cross.
h) Supporting rollers are covered by polyurethane
i) Stringing device adjustable per size of the pipe and bundle.
j) Automatic strapping for stringing pipes.
k) Strapping belt is adjustable per requirement.
l) Strapping position reset
m) The pipe bundling machine is adjustable for different pipe length.
n) Pipe are paralleled in strapped bundle.
Automatic conveying
Automatic conveying the pipe bundle to the gathering position
Basic characters:
a) PLC program control.
b) Supporting rollers are covered by polyurethane
c) Automatic bundle package outlet.
d) Speed is adjustable
The other machinery:
Automatic pipe wrapping machine
Aluminum profile bundle wrapping machine
Automatic packing line
Steel pipe tube bundle machine

Automatic steel tube bundling lines for reducing the labor cost. It is to bundle making shape of Hexagon, square, triangle, trapezoid. We produce different models of lines based on the length

Steel tube strapping machine

The automatic steel strapping machine Tension Force 15,572 – 19,576 N Control Mode from automatic, semi-automatic to manual. Strapping process for bundle Shape Hexagon, square, triangle, trapezoid...

Pipe bagging machine
Video
Send Inquiry
Contact us