Home
>
Products
>
Automatic Packing Line
>
Automatic Wire Packing Line
>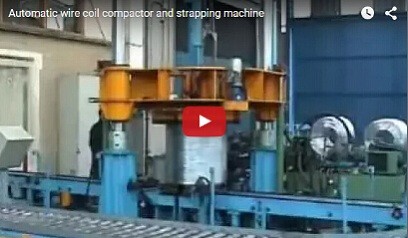 The Automatic Strapping Machine performs all the straps in different strapping positions. The wire coil along with the basket should be stay in table and the compactor system will compacting the wire coil on spool. It is al solution adjustable to accommodate materials by inverters.The offered line is designed for the handling of a total of 8 coils per hour along with its baskets, taking into account that to each coil will be done a total of 4 radial straps. This value has been provided by the customer has designed the line according with received specifications. The automatic strapping machine and the compactor don't damage the wire coils to be strapped, because the contact zone of them are protected with HDPE material. For the elaboration of the offer have been considered the Automatic Strapping & Compacting Line can work 24 hours per day and 7 days per week. So it will be designed accordingly. It is the most efficiency equipment for improving your wire coil packagingwhich meets the handling and stacking requirement for higher packaging efficiency with minimal space and saving labor cost in wire handling.The operator should place a basket along with its wire coil on the conveyor and conveyor move the coil into compacting station. The basket along with the coil should be displaced to the position of the strapping table supplied by Fhopeapck.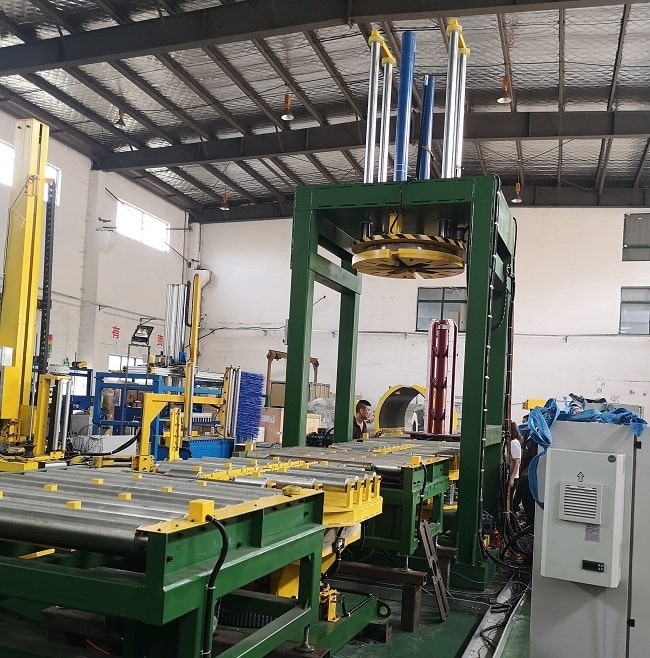 FHOPE provide semiautowire coil compactor and strapping machine for automatic handling the wire coil with basket online.
1. Application: the equipment is composed of compacting device, hydraulic pump station, conveyor &etc, it's used for vertical type wire coil compacting.
2. Operation:
a. conveying the wire with rack to the compacting position.
b. conveyer down for wire rack placing the solid compaction position.
c. automatic compacting.
d. conveyor raising and move the coil to next station.
3. Main technical parameters:
Strapping material:
q Strap width 19mm q Strap thickness 1,00 / 1,27mm
q Type of strap Polyester
q Strap quality Smooth /High quality polyester strap
Sealing features:
q Type of joint By friction - vibration r Joint location The strapping is performed in the front part of the wire coil.
q Joint efficiency Approx. 75-80% of the breaking load of the strap (mentioned quality). Speeds and strength
q Strap. Tension 500N - 1000N (adjustable depending the material)
q Strap feed & Take –up speed Approx. 1,5m / second (adjustable)
q Tension speed 4 m / minute Hydraulic features q Maximum pressure 105 bar
q Work pressure 100 bar q Type of oil Hydraulic oil (for example: VESTA HLP – 46)
q Work temperature < 45ºC Pneumatic features
q Air quality 50u filtered and lubricated with oil (for example: VESTA HLP-22)
q Maximum temperature 60ºC
o Maximum pressure 10 bar / 1MPa
o Work pressure 6 bar / 0,6 MPa
o Nominal flow in 6 bar Approx. 4800Nl/min ▲p 1 bar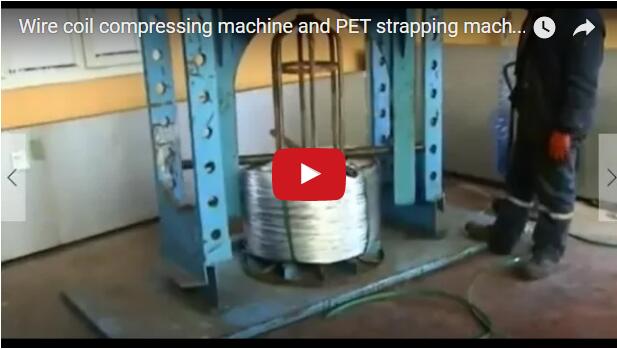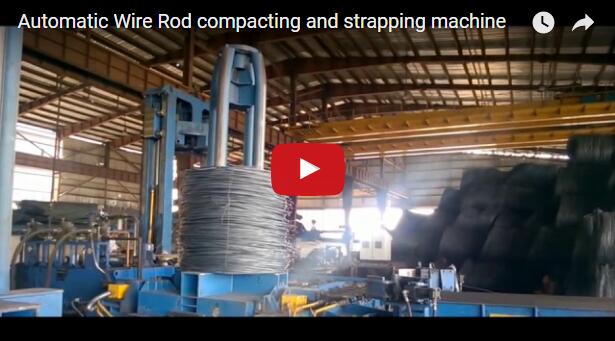 Electric features:
q Automata Siemens S7-200
q Power requirements AC 380V, 50 Hz, 3 Phase
q Solenoid valves & sensors DC24V
q Power of motors app.18Kw
4. Main performance parameters
| | | | |
| --- | --- | --- | --- |
| No. | Item | Requirement | Definition and conditions |
| 1 | Single compacting time | About 10-20sec | --- |
| 2 | Max compacting pressure | 20T | --- |
| 3 | Comprehensive reliability | ≥99.9% | --- |
| 4 | Failure frequency in testing | ≤ 1 | --- |
| 5 | Equipment noise | ≤85 decibel | --- |
Technical specifications&performance:
We are responsible for the whole equipment design, the equipment integrity, and the completeness& accuracy of all the documents.
All of the design are based on Metric standard and comply with the existing ISO standards.All bearings are adopted according to International standards.
1) Solid structure, firm and durable.
2) Special designing for compacting wire coil with rack
3) Soft start and stop.
4) Compacting driven by hydraulic.
5) Special
transmission
mechanism
adopted, safe and stable.
6) Conveyor for loading and unloading
7) Multiple limit protection makes the machine more safe.
8) The machine stops automatically.
9) Obligating position for manually strapping.
10) Two way back pressure technical, ensure smooth transition during shifting of gravity.
CONTACT US

Email: [[email protected]]

Whatsapp: 0086-13951501635