Load Inverter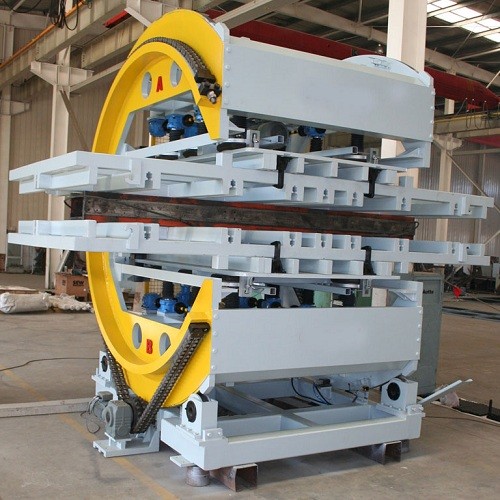 FHOPE supplies load inverter solution. The load inverter rotates 180 degree for changing the products position in production process. It was for mould, steel sheet, pallet, die...Hydraulic barrel inverters, pallet inverters, load inverters and c-frame Inverters, with hydraulic clamping device for rotating loads through 180 degrees while protecting the integrity of the product.

Application:

1.Steel coil industry

2. Wire coil industry

3.Aluminum coil industry

4.Copper coil industry

5.Mould industry

6.Wheel spool
Description:
FPCT series load inverter providing safety operation for products changing 180 degree. Special C-shaped load inverter, C-frame inverters is for easy operation which can be loaded and unloaded with a forklift or other load
handling truck. With optional base rotation and driving system, our C-frame inverters can be loaded and unloaded from the same side according your requirement. It eliminating extra forklift movements.
There are customized machines base on your specification and application to meet your goal in precession.


--Hydraulic barrel load inverters
Features:
1. Special double chain drive, oblique gear and worm speed reducer.
2. Clamping device for load height.
3. Inverter controls, Fast ,stable and safe
4. Two displacement restrictors adopted to grantee a safety operation
5. Automatically locking at any angle in emergency stop.
6. Electronic panel control
7. Foundation loading adjustment.
8. Pressure setting
9. Strong and firm structure in load inverter.
Copper coil wrapping machine

The advantage of the door packaging by door wrapping machine:1. Energy save2. Material costs lower 3. Easily maintaining.4. Highly efficiency

Coil tilter

The tilter is for material handling in production. It is for changing the material position with 90 degree which is an safety and toughly equipment for heavy products