Home
>
Products
>
Automatic Packing Line
>
Aluminum profile packing line
>
Automatic protective film applicator for aluminum profile to save the labor
In the aluminum profile production, the profile surface protection is the important procession after extruding. The general protective way is by film and tape covering which needs two people operation, one for machine running and profile infeeding, one for film cutting. Following solution is able save one people
This is an automatic film and tape covering machine for applicating the protective material on the surface of the aluminum profile.
The film length will be pre-cutting while checking the aluminum profile length, and it will be checking by servo system.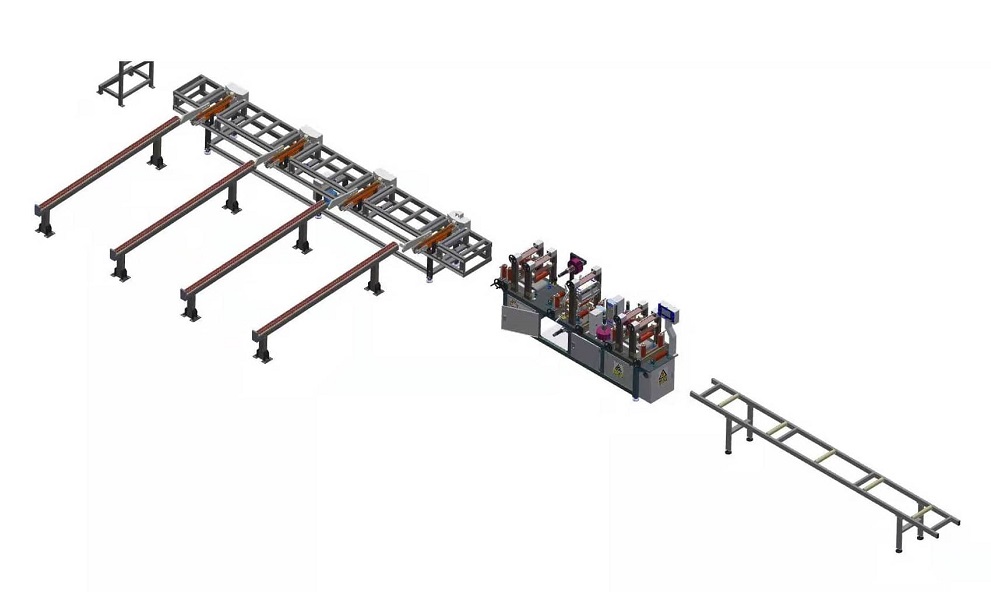 This is a technial upgrade version aluminum profile packing equipment compitibale with a wider size range film application and faster efficiency on the basis of the old film tapping machine.
Packing Procession:
Manually infeeding the aluminum profile from the roller conveyor to the entrance of the packing machine.
The driving device press down for holding the profile and move it through the film applicators.
The automatic film cutting device will checking the length of the profile and pre-cutting the film for application.
Film will be tapping on the profile surface when it pass through the applictors.
The servo driving system checking and move out the profile with different speed so that for separting the packed profile from applicator
The packed aluminum profile will be transfering from the out-feeding conveyor to the gathering table.
Unloading the packed profile.
Basic Data
Machine size: Length 3500mm*Width800mm*Height1500mm
Packing Scope: Length3000-7500mm;Width:10-200mm; Height:10-150mm
Packing speed:10-12 pieces/minute per 6m profile
total power: 6.75kw
CONTACT US