FPS-800
FHOPE leads the way again--now offering Steel Coil Packing Machine to help improve your packaging process. This unique machine, which packing coils through eye wrapping, is flexible and can be tailored to meet the specific needs of each customer and packaging line configuration.
This valuable packaging machine provides the information you need for successful operation of your coil packaging. Topics include: • Fhope Packaging Machinery Corporation was established special for coil packaging。 Fhope packaging prides itself in the fact that its machines are designed for durability, flexibility and simplicity of operation. These factors have contributed to the sales in excess of 50,000 machines throughout the Packaging Industry to date. high-volume needs for your output performance, even just in systems with large PLC programs and scan occasions. This system allows the operator to re-insert data for any coil in the system and then proceed with automatic operation.
Description:
FPS series steel coil packing machine is mainly used to steel coil, steel strip packaging, which is with highly efficiency and nice packaging for saving labor and material cost. The packaging is with eye crossing wrapping, packaging maintains a complete in-house Engineering Staff and an in-house Service Department to advise mechanics regarding maintenance of machinery or repairs. The machine is a compact vertical form, wrapping and material cutting system for a wide variety of coil products and industries.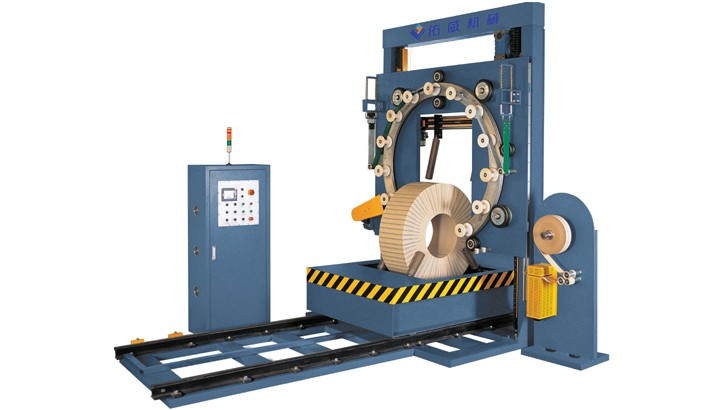 Features:
1. PLC & HMI for automatic operation.
2. Special system for easy loading and unloading.
3. Manual and automatic working mode for easy operation.
4. The converter is adopted to adjust the speed of the ring and rollers
5. Overlap of the packing tape according to requirement.
6. Automatic material cutting.
7. Guardrails, soft starts and stop for safety operation.
8. Height of the ring could be adjusted for different OD of the coil
9. Packaging tension is adjustable by special breaker.
10. The rollers are wrapped by polyurethane for protect the surface of the coils.
11.Indicator alarms automatically when trouble occurs. Trouble can be shown automatically.
12. Special brake for the tape release device to avoid material folding.
13. Widely packing material applicable.
14. Ring soft start and stop.
Note: Can be designed according your specification.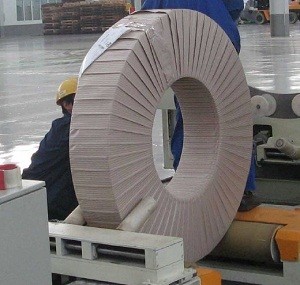 Parameters:
FPS-800
Voltage (V/Hz)
380v 50Hz 3Phase
Steel wire coil ID(mm)
508/610
Steel wire coil OD(mm)
800-1600
Steel wire coil width(mm)
300-800mm
Steel wire coil Weight(Kg)
200-5000kg
Packing material
PVC/LLDPE/PE/PAPER/HDPE
ID:50mm OD:100-450mm Width:100-150mm
Related machines: Wire wrapping machine Hose coil wrapping machine
Cable wrapping machine Coil Master
Fhope packaging manufactures a full line of pipe bundle ,pipe bagging. Coil stacking, coil packaging... it can automatically handling. It saves the labor cost greatly. Fhope packaging also manufactures sealing machines using cutting film so as to packing product.