Master Coil stretch wrappercan uses pre-set coil data to make processing decisions in automating packaging and sharing the data with another line system.
steel Master coil utilizes a user-friendly touch screen interface for entering, viewing and modifying coil information.
The memory module of the operation system is able to record the packing step for next circle packing.

It provides a method for system recovery, realignment and modification. The operation steps:
1. Loading the coil by crane on trolley
2. Automatically through eye wrapping
3. Sealing the packaging material
4. Unloading the packed coil.
Technical data:
Coil size;
OD:900-2000mm ID:508/610mm Width:300-2500mm
Weight: 300-30000Kg
Shuttle speed: 1-3m/min
Packaging material: Stretch film/PE/HDPE/PVC
Power supply; Per your need
Air supply: 5-8 bar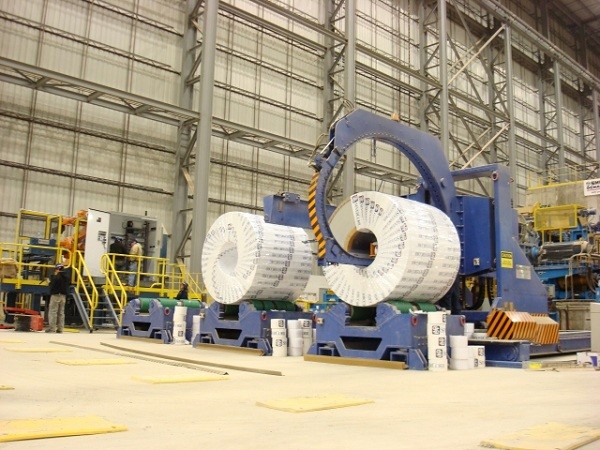 Packaging Principle:
The package requirement is an important part of the Master coil wrapper design. The Master wrappersets a tight layer of film over all surfaces for the coil. This limited coating of film gets rid of the majority of the air through the package. By reducing the level of air flow inside the package, the opportunity of humidity to produce is decreased, and thus reducing the opportunity of rust or normal water locations. The ancillary product packaging will then be used. This product packaging may include inside of diameter protectors, exterior size guards, side wall protectors or abdomen wrap material. This material does apply personally or its application can be incorporated into the system being used automatically. This ancillary eye through wrapping guards both coil and the initially coating of film The ancillary merchandise can be produced from plastics to keep up a totally recyclable package. A second covering of film is then used. The next covering of film holds the ancillary package in place and further more protects the interior airtight coating of film. Ever since the two levels are employed as a stand alone and also the ancillary material is within in between, the outer level might be split from dealing with problems however the inner level remains intact and so the coil keeps protected and sealed Also, since the. first layer of film is tight if, any condensation forms, it is either between the layers or on the outdoors covering. In either case, the moisture content fails to enter from the very first level. Also, since the overall coil is sealed inside a water resistant package, any exterior moisture content goes away from the package.
FHOPE Chinese manufacturer--now offering through eye coil packing machine--Master coil stretch wrapper to help improve your packaging process for steel coil, aluminum coil, copper coil....It is an automatically operated packaging system that uses LLDPE stretch film/paper/HDPE... for the wrapping of coils. This unique machine, which packing coils through eye wrapping, which is providing a well protection for coil avoid moisture, dust and surface damage.
Coil data and customer specifications are manually input as coils enter the packaging machine. This data can contain pertinent information such as:
• OD of coils
• ID of coils
• Width of coils
• Weight of coils
• Required wrapping speed
• Required wrapping layer
• Customer identification number