FPS Series: Steel coil packing machine FPS-400
steel coil packaging machine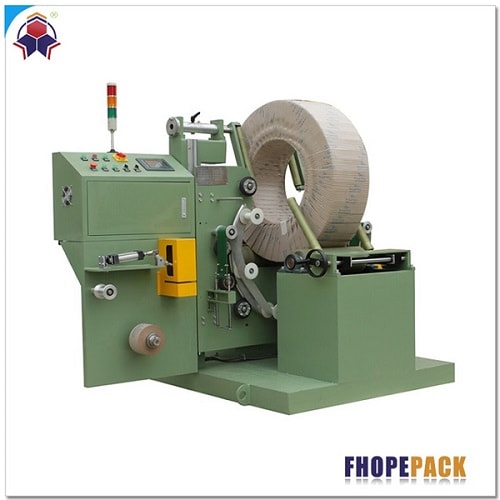 FPS-400
FHOPE FPS-400 is an simplified Steel Coil Packing Machine which loading and unloading from the top size by crane. The packaging material can be stretch film, paper, PE...It is a good solution to help improve your coil in packaging process. Custom manufacturer of coil packaging machinery. Various types include lldpe wrapping, material feeding, for all kind of coil objects. This data can contain pertinent information such as:
• OD of coils
• ID of coils
• Width of coils
• Weight of coils
• Required wrapping speed
• Required wrapping layer
• Customer identification number
Manufacturer of coil packaging machine including metal coil wrapper, coil tilter, alloy strip packaging machine, coil wrapping machine, Steel wire wrapping machine, aluminum coil packaging machine. Types of coil packaging machine include material dispenser, orbital ring, C-frame, material stocker, high level adjust motor, supportive roller, supportive roller, Coil packaging tension adjustment, C-frame ring and guard frame. Quick material reloading, special designing methods & equipment available. Film cutting and feeding, powered & manual operation panel & programmable setup controllers are covered in
Quick coil stretch wrapping systems
. Applications include coil size, wrapping speed, output...
Description:
FPS-400 series steel coil packaging machine is highly efficiency and good in nice coil packaging for saving labor cost and material cost, which adopted for steel coil, steel strip packaging. The packaging method is eye crossing wrapping. The final package for steel coil is perfect, firm and good for dustproof, waterproof by reducing the amount of air in the package and reducing the possibility of corrosion or water spots
coil packaging machine
Features:
1. Imported electronic parts to make sure high-speed running stability.
2. Special system for easy loading and unloading.
3. Manual and automatic working mode for easy operation.
4. The speed of the ring and rollers can be adjusted by the converter
5. Overlap of the packing tape according to requirement.
6. Material cutting in
automatic
.
7.Safety operation for
guardrails, soft starts and stop
.
8.Different OD of the coil can be adjusted by the height of the ring
9. Special breaker is for packaging tension adjustment.
10. To protect the surface of the coils,
The rollers are wrapped by polyurethane
.
11. The part of the coil packaging machine could be modified based on the product
12. The tape release device to avoid material folding.
13. Different material with different packaging.
14. PLC control system controls the wrapping.
15. Addition safety safeguarding and alarm for products packaging.
16. Durable quality, long life.
Note: Can be designed according to your specification.
Outfitted with PLC control system and safety safeguarding and alarm products
Designed specifically for the heavy and enormous items
Parameters:
FPS-400
Voltage (V/Hz)
380v 50Hz 3Phase
Power (KW)
4.0kw
Steel wire coil ID(mm)
508/610
Steel wire coil OD(mm)
800-1200
Steel wire coil width(mm)
100-400mm
Steel wire coil Weight(Kg)
100-1000kg
Packing material
PVC/LLDPE/PE/PAPER/HDPE
ID:50mm OD:100-250mm Width:100-300mm
Overlapping rate
10%-90%
Air supply.
5-7kgf/ c㎡