Coil Tilter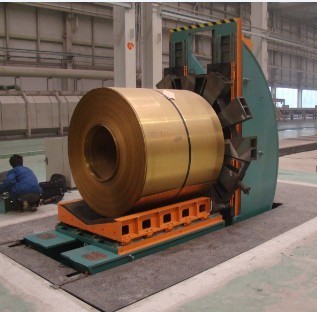 Description:
Coil upender/Coil Tilter is coil handling equipment which mainly apply to turn the objects in metallurgical industry. It also widely used in the module up-ending, coil turning, modules upending, roll upending... machine in above pictures is for steel coil, wire coil, aluminum coil...
There are custom solution available per your handling goal.
The machine can be custom-build according client's requirement.
1.Drive system can be hydraulic
2.The conveyor can be connecting
Features:
1. Mechanical structure, motor drive, oblique gear and worm speed reducer.
2. Four-roller device with heavy designing.
3. Inverter speed control makes machine fast ,stable and safe
4. Two displacement restrictors adopted to grantee a safety operation
5. Any angle stop and power keeping in turning.
6. Emergence stop and position locking function avoid rotation
Control:
1. Control panel or remote control
2. Invertors for adjusting the speed
3. PLC&HMI is optional
Parameters:
FPCT-03
FPCT-05
FPCT-08
FPCT-10
Power Supply (V/Hz)
AC 380/50( or your requirement)
Power consumption (KW)
1.3
2.0
2.5
3.5
Max. Loading
3T
5T
8T
10I
Speed (sec/set)
20-40
20-40
20-40
20-50
Fhopepack manufactures custom packaging machine and handling equipment such as coil car, coil tilter, coil downender, stacker, palletizier and conveyor for clients in steel industries ranging from copper & aluminum packaging to heavy products and more. With multiple facilities in the SHANGHAI CHINA,, we OWN RICH experience in providing our customers with excellent, innovative and sustainable custom manufacturing handling solutions. Fhopepack offers a variety of handling options including tilter with conveyor and hydraulic system. Products are available in master coil moving, coil turing... We offer package handling solution design, testing, prototyping and installation services.
All-Electric Operation: Invertor provides the speed adjustment for tittering movements with exceptionally simple maintenance. The lighting is essentially invisible to operators and maintenance personnel as it manages all positioning functions. All-electric operation results in reliable operation, safety, gentle handling, increased reliability, lower maintenance cost, and energy efficiency.
| | | | |
| --- | --- | --- | --- |
| | | | |
| Working table connects with tilter for objects handling. It is equipment with roller conveyor which makes upender is able to be a part of packing line | Our sales, equipment service, customer service and engineering departments can help you design the optimum protective coil tilter for your application | Our mold tilter has grown to be one of the leading steel wrapping and packaging equipment manufacturers in the China. Our Headquarters are located in SHANGHAI. We have tilter sales and manufacturing facilities in multiple area around the China. | Our upender mission is to provide extraordinary safety handling to proetch operator. We allowing modest pricing for upender machinery that meets and exceeds handling requirement. |
Related machines: Upender Steel coil tilter Coil transfer car
Cable coil wrapping machine Copper coil wrapping machine
Video
Send Inquiry
Contact us