Automatic Slitting Steel Coil PET Strapping Machine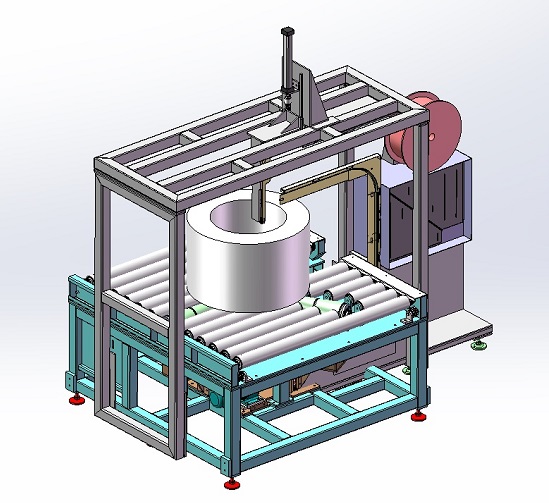 Function
It's a PET eye-through strapping machine for slitting steel coil. For connecting with roller conveyor, there is an full-auto centering positioning device. And it is a necessary function for good PET strap per different coil size. It's available to connect with the production line or packing line.
There are three main parts : 1. Automatic PET belt reel feeding device 2.Automatic strapping head 3. Rollers rotation table.
The working table is an roller conveyor which convered the PU on roller surface.

Basic characteristics
Ø Automatic PET strapping machine with PLC program.
Ø Automatic up/down rotation table for 360 degree turning for the coil 4 srapping belts.
Ø End of tire strap ejector/loop ejector.
Ø Electronic Brake.
Ø Automatic up/down rotating roller for support holding.
Ø Free strapping angle setting regulation.
Ø Easy strap coil change and threading system.
Ø Adjustable strap tension via potentiometer.
Ø Energy-saving drives.
Ø Thermostatically controlled heat-weld sealing.
Ø Strap end detection with ejection of remaining strap.
Ø Integrated roller conveyor with customer's existing line.
Ø Easy operation and simple maintenance.
Ø Photocell for detecting the coil positionfor automatic strapping.
Ø Equip with press-roller with motors drive.
Ø Emergence stop alarm.
Ø Safety label and control button in Russian & English.
Ø The arch is on the side for opening and closing
Main technical parameters
Item: steel coil eye through strapping
Strapping size: OD 800-1350mm, ID 508-610mm, width 20-500mm, weight :100-2500kg
Strap material: PET belt, width 9-12mm, thickness 0.4-1.0mm
Strapping speed: app 12-15 second/strap
Strapping tension: 100-1000N
Compressed air supply: 6-10bar
Power consumption: app. 2.5kw
Power voltage: 380V 50Hz, 3-phase 4-wire
Table height(from ground to the roller): 800-980mm (adjustable by Buyer's need)
Arch size: app.1000×700mm