Home
>
Products
>
Coil Packing Machine
>
Tyre packing machines
>




Automatic Tire Packaging Line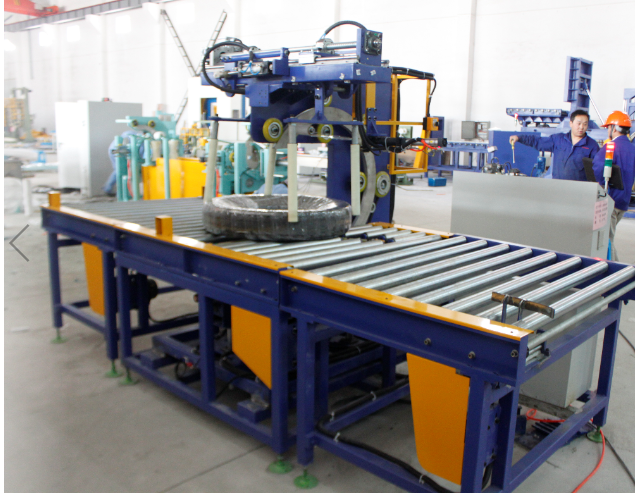 The automatic tyre packing line is an automation system which composed of horizontal tire wrapping machine, information reading, sending and tyre palletizing. The packing a high level packing line line that is is able automatic tapping the tyre OD, the packing material can be ex-changing automatic. The system can able designed per customer's space and special requirement in tyre size and information sharing.
Basic characteristics:
1.CE standard with international brand electric part.

2.PLC, touch screen and friendly program for tire packaging.
3. The line can be connect tyre in-feeding conveyor
4.Inverters for ring, roller, conveyer speed adjustment.
5. Stacking machine for packed tire palletizing.
6.Indicator alarms and error massage with code when trouble occurs.
7.It is an supportive rollers lifting tyre wrapper for tyre ring wrapping.
8.The overlap rate of wrapping film adjusting from 20-80%.

9.Wrapping film tension pre-setting before wrapping start

10.Ring speed adjustable by convertor.
11.Roller speed adjustable by convertor.
12.Packing tape tension can be adjusted.
13.The clamper for film feeding to tie it on trye.

14.Providing the all ownship of the tyre packing line

15.Soft stop and start.
16.Ring original position reset.
17.Overlapping adjustable from 10%-90%
18.Wrapping method: Material as stocking in the material wheels of ring as wrapping.
19.Automatic position for tyre wrapping in different OD.
20.It should start soft and stop softly.
Rotate roll and centering roll covered with PU for products protection.
Automatic tapping machine
The automatic tapping device is able feeding the BOPP adhesive tape on to the surface of the tyre package.
The device is able automatic feeding and cutting the tape per different size tyre. The high level adjusting per different tyre height.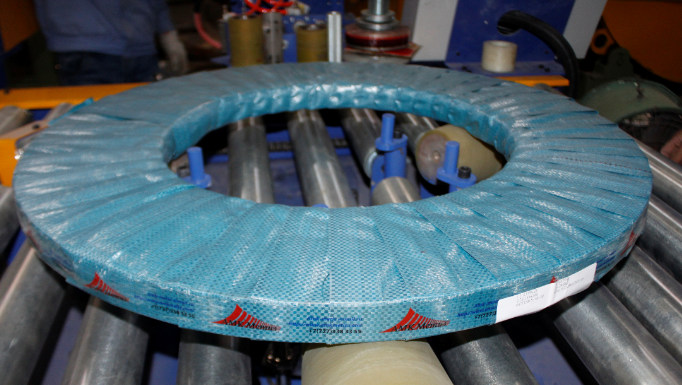 Auto online printing&attaching labeling machine
The system is able edit the printing form and information with different layout. And the information can be setting and changing through the touch scream. It provides the port to receiving the customer's information and provides the ports for sending the package information to the customer's managing system.
Features:
1)Interface with field's production data system.
2)PLC control, touch screen operation interface, optimized and easy to understand.
3)Software transmits data and completes label making.
4)Sensor detection products,PLC signal processing, labeling position can be adjusted by setting parameters.
5)Parameter setting, with high labeling speed, labeling count display clearly.
6)Online automatically printing and automatically attaching in the exact position.
7)The printer brand is well-known brand zebra.
Technical parameter of packaging line:
Tire weight: 5-100kg
Tire height: 150-300mm
Tire OD: 600-1000mm
Tire ID: 150-500mm
Roller Speed:2-4m/min
Packing Speed: 30-35sec/pcs
Rotating speed: 40-100r/min
Overlap scope: 20%-90%
Air supply: 5-7bar
Power output: App.2.2kw
Power voltage: 380v/50Hz/3ph
Packing material:
Stretch film : ID: 50mm, OD: 80-120mm, Width: 60-70mm
Palletizer device for tire stacking
The robot is for stacking the tyres on the pallet per programming that integrated into its storage and order picking systems. The packed tires are loaded onto storage pallets by conveyor horizontally. The robot is able palletized in a vertically.
Technical parameter:
Pallet size: Length:1200mm; Width: 1200mm;
Stacking total height (with pallet): 1200mm
Features:
1)Auto clamp and lift up the tyre.
2)Auto conveying to stacking pallet,and auto arrange orderliness.
3)Machine auto repeats the operations of conveying and stacking on pallet.
4)The total stacking height with pallet can be up to 1200mm.
5)After finished stacking, pallet auto be conveyed out through out-feeding conveyor.
Main Electric Components List
| | | |
| --- | --- | --- |
| NO. | DESCRIPTION | BRAND |
| 1 | PLC | Siemens |
| 2 | Touch screen | Siemens |
| 3 | Frequency converters | Siemens |
| 4 | Pneumatic element | Airtec |
| 5 | Sensor | Autonics |
| 6 | Switch | Schneider |
| 7 | Contactor | Schneider |
CONTACT US