Home
>
Products
>
Coil Packing Machine
>
Tyre packing machines
>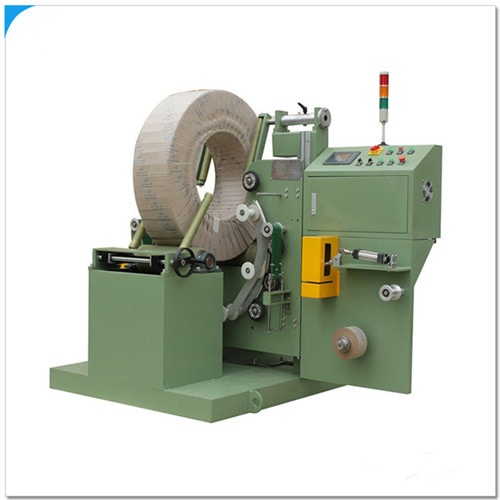 Description:
This is an automatic type packaging machine for large tire and large roll. The packing material is fixed besides the packing table which can also calculate the length for the tire packaging. The machine cuts the material automatically.It replaces the manual tyre packaging process.
Features:
1. Different packing material: paper, stretch film, woven...
2. Ring start and stop position reset per sensor
3. Non skill worker easy operation.
4. The inverters adjusting the for the ring and rollers for soft stop&start..
5. 10%-90% overlap per setting the ring and roller speed
6. Material fix on the ring for packing.
7. Fence and guidrail for operator protection.
8. Different tyre OD&ID adjustment throught the ring height changing per motor
9. New tech material for friction wheel long time running.
10.Indicator alarms automatically when trouble occurs. Trouble can be shown automatically.
11. Packing tension is adjustable vary from packing requirement.
12. Packing material friendly using, not limited in the material.
This kind of packing machine specially for truck tyre by smartly designed, compact, high-speed film wrapping.satisfied with the convenience of the tire packaging. The speed is upto 2 tyres per minute. Easy running the machine since it is delivery without dismentle. Only power on and air connection is able make it running immediatly.
FPT-400
Voltage (V/Hz) AC 380/50( or your requirement)
Power (KW) 2.5
Tyre ID(mm) 750-1200
Tyre OD(mm) 1000-1400
Tyre width(mm) 80-400
Tyre Weight(Kg) 20-120
Packing material PE/Stretch film/knit belt/PP/Sliver paper
Ring speed(r/min) 30-80
Wrapping speed 35-50sec/pcs
Overlapping rate 20-80%
CONTACT US