Home
>
Products
>
Automatic Packing Line
>
Master Coil Stretch Wrapper
>
MASTER COIL PACKING MACHINE BY FILM FOR COLD ROLLED STEEL COIL
Application:
This coil film wrapping machine is with two blocker roller stations that designged specialized for orbital wrapping of steel coil. The package covered with VCI film to make the package dustproof, well protected and decorated.
The wrapping station is able checking the coil size for automatic moving, positioning, and eye throught wrapping. The shuttles is able carry 2 or 3 rolls film for overlap wrapping. Good tension controller makes the machine works for big and small coil.
Installation:
Place the machine on the flat ground surface.
Scope of work: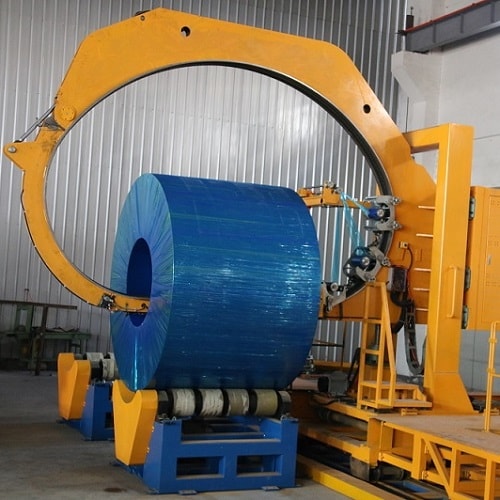 1. Conceptualization of the packing system
2. Design of the mechanical system & electric modules
3. Detail analysis and simulation for each module per specification
4. Preparation of General assembly layout
5. Cycle time analysis
6. Detailed production, machining Engineering,
7. Preparation of the designing, file, technical Bill-of-Material
8. Assembly and part drawing of different modules
9. Manufacturing & Quality check
10. Purchase of bought-out items
11. Assembly of modules at our works
12. Integration of the modules
13. Testing and trial of modules
14. Inspection of the modules in running condition
15. Packing of assembly with sea worth packaging
16. Dispatch
17. Supervision of Mechanical & Electrical Installation
18. Commissioning.
19. Testing of the total system at customer's site
20. Handing over the system
21. Commissioning trial
22. Training to operation engineers.
Object material: steel coil
Coil width(W)800~2000mm
Coil outer diameter(OD):1000-2100mm
Coil inner diameter(ID):610-760mmm
Coil weight:2000-30000kg
Packing material:
VCI film/LLDPE stretch film/PVC
ID:76mm OD:100-250mm Width:200-250mm
(The precise size will be confirmed after designing)
Shutter speed:app.2-3m/sec
Overlap rate:20%~90%
Power :app 15.0Kw
Power supply:380V,Three-phase five line
Hydraulic supply: 140bar
Air supply:6~8kgf/cm
2
CONTACT US