Home
>
Industry Machines
>
Other
>
Industry Solution
>
Select solution...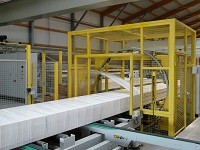 Technical parameter:

Object size: The size of packaging:
a. Length: >2000 mm
b. Width: 400-600 mm
c. Height : 300-800 mm
d. Weight:50-300Kg

Infeed conveyor 1000mm L×650mmW
Outfeed conveyor 1000mmL×650mmW
Material: LLDPE stretch film
Width: 200-250mm
OD: 100-200mm
ID: 50mm
(Any special size please let me know)

Air Supply 5~8kgf/cm2
Ring speed: App.10-40r/min

Machine size: App. L2.5 x W1.6 x H1.6mm
Power output: about 3.0kw
Power voltage: AC 380v,60Hz,3Phase
Control Power voltage ADC24V

1. Guarantee value:
a)Ring speed: 20-80r/min
b)Wrapping effect: Product surface is smooth and even.
2. Working hours of the machine
Effective working hour per year: 7200h
3. Environmental protection
Noise control of the equipment environment:It must meet with the national requirements for noise control.
4. Emission standard
Emission of the waste gas and waste water meet with national requirements.