FHOPE-E Series: PVC pipe wrapping machine
The Fhope provides packaging solutions for that plastic industry--PPR/PVC/stainless steel pipe bag packing machine. Our persistence for a has ended in the development of innovative, cheap items that address problems like loose, irregular packaging. Our sales, equipment service, customer service and engineering departments can help you design the optimum protective packaging system for your application. To learn more about Fhope pvc pipe bag packing machine for hose pipe,pve pipe,steel tube book the subsequent information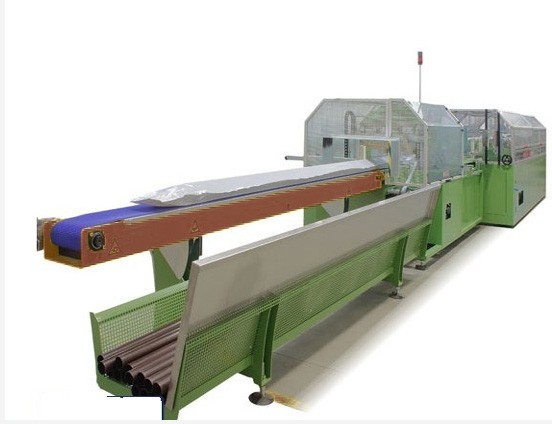 Description:
pipe bag packing machine is mainly used to packaging of plastic pipe, pvc pipe, rods, copper pipe, profile... which is with highly efficiency and nice packaging for saving labor and material cost.
Features of PVC pipe bag packing machine:
Possibility to set the pipe number and the bundle shape based on the pipe diameter.
It is a machine for pipe bag filling into welded PE or PP film.

Working cycle:
- the pipes are coming from the extrusion line
- the equipment counts, levels and orders the pipes in accordance with the bundle to be produced
- the pipe bundle is conveyed into the film welding and bag filling station
- the pipe bag is transported on the line end and it's tilted up.

On request the device may be matched together with the following devices:
- strapping machine which straps the pipe bundle before it enters the video welding and bag filling station.
Probability to set pipe number and bundle shape, amount of the straps and their position
- labeling machine which automatically sticks adhesive labels showing barcode symbols or other production data.
Technical date:
Pipe bundle OD:100-250mm
Power supply:380v,50Hz
Air supply:6-8Bar
Bag packing speed:2 bundle/min
When you purchase PVC pipe bag packing machine from FHOPE, you get a lot more than good quality, reliable products. You receive the constant maintenance, technical, and engineering resources necessary to meet your ongoing packaging needs.
Video
Send Inquiry
Contact us