Fhope
packing machinery is a professional supplier to provide door stretch wrapping machine, door shrinking packing solution for window and door industry. the hallmark of success for Fhope packing machinery is its ability to special designs according client's specification in the industry. The company's ongoing commitment is to provide innovative long-term solutions that allow machines to meet end user needs by consistently producing high-quality and money save packaging.
The major field is shrink wrapping machines for industries. Our rich experience has given us the opportunity to cover all types of companies from the smallest to the really large ones according their specification and we are represented in different branch of industries.
■ Flooring industries (Parquet-, Laminate-, Cork-, and solid wood).
■ Moulding industries (panels, strips, and solid wood).
■ Kitchen and bathroom industries.
■ Furniture (knockdown).
■ Board industries (bench-, ceiling-, wall boards).
■ Door and window industries.
Description of door packing machine:
Door packing machine is mainly used to packaging of profile, door, window... which is with highly efficiency and nice packaging for saving labor and material cost. The machine can de designed according client's specification.
The machines can be a semi auto type with economic cost or automatic type for online packing solution.
The advantage of the door wrapping package:
1. Energy save
2. Packing material cost save
3. Easily maintaining for the machine.
4. Highly efficiency with 1-9M/min
Control System
- PLC&HMI Programmable Logic Controller
- Photocell sensor is adopted for package detecting and packing position setting automatically.
- Sensor control for protective rollers to avoid light package shaking in wrapping.
- Conveyor Jog for each conveyors and ring
- Conveyor speed and wrapping speed are adjustable in invertors by Touch scream.
- Overlapping rate is adjustable.
- The machine can be connecting to production line with automatic operation.
- Automatic material feeding and cutting system for unman working.
- Soft start and stop
- Separate Control box with error alarms.
- Reinforce wrapping setting for front and end of package.
- Semi auto and automatic central mode
- Ring reset function.
Structures:
Wrapping station
- Heavy structural steel Frame construction
- 0-60 RPM Variable Table Speed (Higher Speeds Available Where Required)
- The main board of the machine was quenching and alignment with highly strength.
- -Double-ring & double-rub wheel devices make working more safe stable & energetic.
- -The friction between ring and drive wheel is adjustable
- - Adjustable Soft-Start Soft Stop
- - Fenced for Greater Personnel Safety
- - Wrapping tension adjustable for tension control system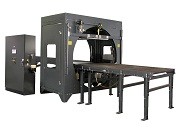 Door Wrapping Machinery
Door wrapping machine is a kind of horizontal wrapping machine. The packing material is LLDPE stretch film. PLC&HMI control, which is about to on line automatic wrapping.


Door shrinking machine is one of most popular packing machine in the market by door and window manufacturer. The machine with nice full sealing package was well received by the market.