Coil upender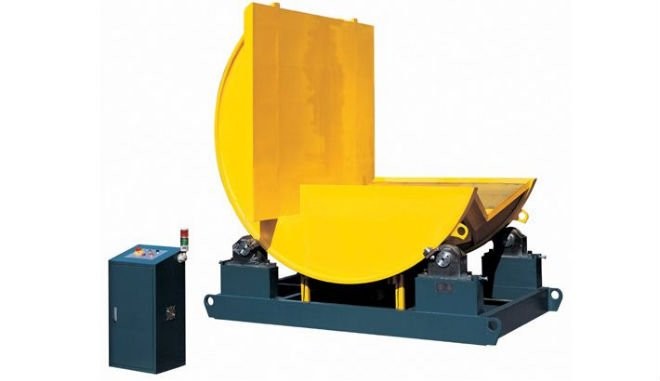 Description:
Coil upender/Coil Tilter mainly apply to turn the objects in metallurgical industry. It also widely used in the module up-ending, coil turning, modules upending, roll upending... machine in above pictures is for steel coil, wire coil, aluminum coil...
The machine can be custom-build according client's requirement.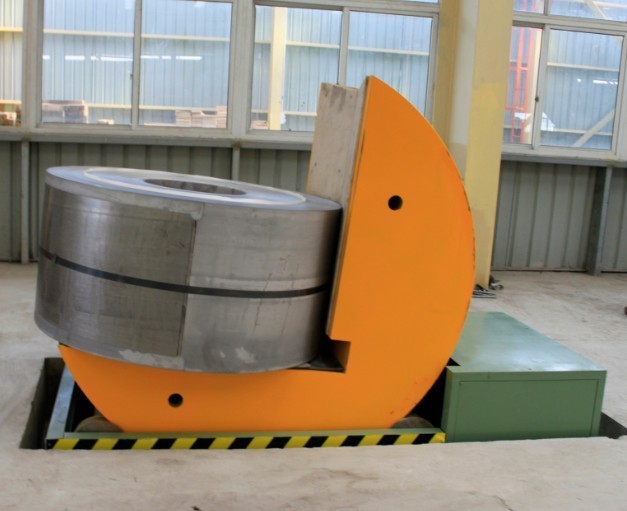 1.Drive system can be hydraulic
2.The conveyor can be connecting
Features of Coil upender:
1. Special structure designed, reliable oblique gear and quality worm speed reducer.
2. Heavy designed Four-roller device to supportive the tilter.
3. Inverter controls the speed.
4. Two displacement restrictors and limited sensor adopted for safety operation.
5. Machine can be stop at any angle in turning even power off.
6. Emergence stop and position locking function avoid rotation.
7. Working table can be made per products.
Control:
1. Control box or remote control by manually.
2. Invertors for adjusting the speed
Parameters:
FPCT-03
FPCT-05
FPCT-10
FPCT-20
Power Supply (V/Hz)
AC 380/50( or your requirement)
Power consumption (KW)
1.3
2.0
4.5
7.8
Max. Loading
3T
5T
10T
20T
Speed (sec/set)
20-40
20-40
20-40
20-50
Fhopepack is a manufacturer of high-performance, price-compatible upender with conveyor and coil car for all heavy steel. Digital speed controls and custom designs are available. There are two one warranty and all machine document file are included. The company's tilter are the result and experience of more than 15 years of design, manufacturing, and application. Products are proudly made in the China.
| | | | |
| --- | --- | --- | --- |
| | | | |
| Working table connects with tilter for objects handling. It is equipmetn with roller conveyor which makes upender is able to be a part of packing line | Our sales, equipment service, customer service and engineering departments can help you design the optimum protective coil tilter for your application | The manufacturer with innovative, knowledgeable engineer team service for your need to provide the turnkey services. Professional tilter and upender manufacturers in China | From coil handlign system engineering, to automation industry and mold; There are custom design for your application. We provide installation testing and field commission. |
Related machines: Upender Steel coil tilter Coil transfer car
Cable coil wrapping machine Copper coil wrapping machine
Video
Send Inquiry
Contact us