In Fhopepack, there is able providing a steel mother coil packaging machine for jumbo coil.
So many people call it: jumbo coil packing machine, mother coil wrapper, coilmaster wrapper…

More information: http://www.fhopepack.com/Coil_Master.html
It is a packaging equipment with capable to handling the steel coil upto 25 T. The packaging material is stretch film,HDPE which is able pack the steel mother coil by eye cross wrapping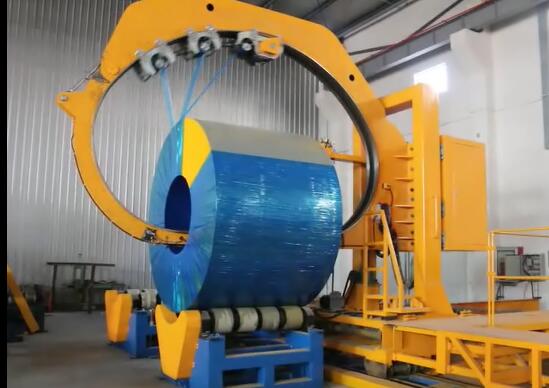 I. APPLICATION NOTE
This machine can be used to conduct relatively closed packaging for different dimensions of metal coils or coiled unpackaged objects, such as aluminum coil steel coil, steel belt so as to play a role of anti-rust, waterproof, dustproof, anti-damage and anti-aging etc.
The packing material mating with this machine can be use stretch film, high-quality compound knit packing tape.
II. BRIEF INTRODUCTION
This automatic packing system is composed of blocker roller stations,
guide rail, main engine/machine, trolley, hydraulic system, shuttle, U-type orbital, packing material release & storage station, automatic mechanical hand, signal detection system, electric circuit system, electric cabinet and etc.
Automatic precise orientation system, shift the blocker roller station
automatically and orientate the coils' center automatically. Avoiding tedious operations and bad results caused by inaccurate orientation manually.
Adopt three axes association structure, which is suitable for different size
of coils' package.
Special packing material release & storage device, easy & convenient
& fast to exchange the packing material as needed.
Mechanical hand cutting packing material automatically, to reduce
the packing material cutting time and enhance the packing efficiency greatly.
Multiple safe signal detection device, make sure the machine is safe and
induction precise during working.
7. The trolley is controlled by hydraulic system, stable, safe and reliable.
8. PLC & HMI program control system combines with buttons operation. Up to 30 groups of parameter setting can be input & preserved & auto-exchanged.
www.fhopepack.com for more information.