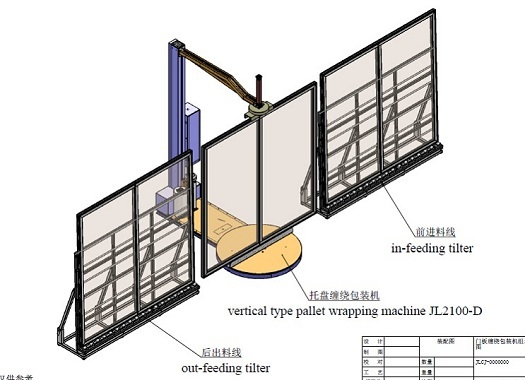 MORE INFORMATION: Door stretch wrapping machine
Automatic stretch wrapping machine for door packaging.
There are two standing structures for door, window loading and unloading.
This is an economic type stretch packing solution for  your handling and packing.
1. Adjust in-feeding & out-feeding tilters tilt during 90 degree and 180 degree. To make your window from 100 degree to 90 degree.
2. We add two sets of guardrails on the in-feeding & out-feeding tilters as below. To protect and fix windows during feeding, and reduce labor force.
Height & width of the guardrails can be adjusted for different sizes of windows' feeding.
3. We upgrade the top plate clamp and protective hands in the turntable conveyor. The clamp can orientate, lock and fix window for wrapping automatically.
Protective hands controlled by cylinder, can be up and down convenient for wrapping and conveying. Up-fix & wrapping, Down–protect & conveying window out.
During wrapping, the clamp and protective hands will be wrapped together with window. After wrapping, the clamp position will be located not move and
protective hands will be down, easy for window conveying to out-feeding tilter and taking out in 90 degree.
Detail wrapping process like this:

Window feeding in in-feeding tilter, tilt to 90 degree from 100 degree of your booth–> push to wrapping station –> clamp & protective hands oriente and fix window –>

wrapping automatically –> clamp located, protective hands down –> push wrapped window to out-feeding tilter and take out. A wrapping process finished.

In the wrapping end, tilt window to 100 degree and then take out is also available as you need.

Comments are closed. Posted by: fhopepack on January 18, 2016

Tags: door packing machine, door stretch wrapping machine, door wrapping machine