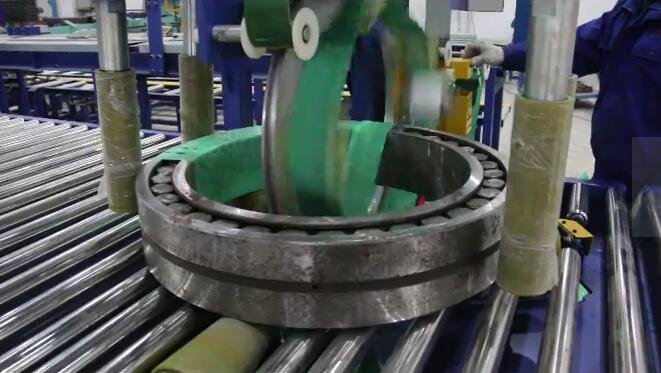 Autoamtic bearing wrapping machine 
Control:
l 1. The device could be hooking up with production line with automatic bearing wrapping.bearing packing machine
l 2. PLC & HMI are adopted for automatic operation in automatic bearing packaging.
l 3. Automatic centralized positioning for bearing packaging
l 4. Sensors for checking position from the wrapping position.
l 5. Automatic conveyors for loading and unloading.
l 6. Manual and automatic bearing packing mode could be selecting for different packaging goal.
l 7. Indicator sensors instantly when trouble happens. Trouble could be proven instantly.
l 8. Soft stop & start to protech the machine and package.
l 9. Ring reset for manually opeation.
l 10. Ring jog and positioning.
Automatic bearing packaging machinery could be extensively used in outdoors horizontal packing bearing, which solves using the hefty and inconvenient things of vertical packing. Furthermore, it may be utilised to pack other coil objects, for example steel belt, bronze belt, wire materials, aluminum coil, hose coil, rubber tube, bearing, tire, electric wire cable, stainless steel, plastic tube, PE tube, PVC tube, electrical wire cable, rubber tube, wire rod etc.We will provide reputable solutions of custom-made automated bearing packing line which includes strapping, stacking, wrapping, overturning in accordance to actual needs of shoppers. The bearing packing line may also be equipped with the customer's present manufacturing line.