As per your previous inquiry about
door horizontal bobble film packing machine
, what is going on with this project now? Are you still in need of this machine? If so, please answer my following questions. After getting your answers, we will offer you a suitable packing machine.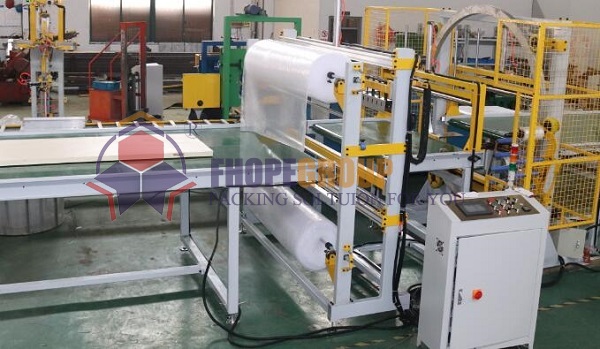 1. What is your door specification?
| | | | | |
| --- | --- | --- | --- | --- |
| Door | Length(mm) | Width(mm) | Thickness(mm) | Weight(kg) |
| Min |   |   |   |   |
| Max |   |   |   |   |
2. What kind of packing material are you going to be used? eg. stretch film, PE, PVC, etc.
(fyi-stretch film)
3. What is your requirement of packing speed? Or what is your daily throughput, say 8 hours?
4. What is loading and unloading method? By manual or ?
5. What is you plan of purchasing this packing machine?
6. What is your main idea of door packing machine? Is it mainly used for protecting doors in storage and transportation or selling with a nice package?
7. Regarding packing door, we have two packing solutions for you choosing.
A. Door sealing and shrinking machine
-This machine can seal the door fully after shrinking. The package is pretty nice and tidy. It not only can protect the product from any damage in storage or transportation, but also the wrapped door can be sold on the market directly.
Shrink material: PE Film
(FYI)
-This machine can be semi-auto or automatic. The packing material is
stretch film
, PE film or other packing tapes as per your need. After packing, the product can be stored or transported in a good condition. However, normally this machine can not pack the head and tail end of the door. If you prefer this packing machine and also want to wrap both ends of door, we can provide you a solution-horizontal door sealing +stretch wrapping machine(bubble film wrap).
8. Do you have any requirements about door packing machine?