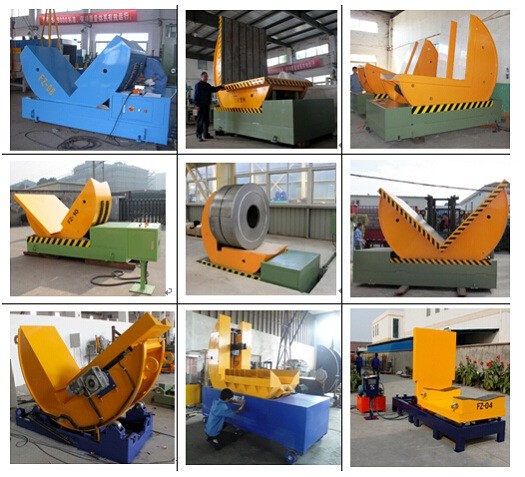 Manufacturer for coil tilter and upender.
http://www.fhopepack.com/Coil_upender.html
ctually the main idea is to wrap the HDPE drain pipe with the non-woven fabric and not of packing it. I understand that your company is more focused in the packing of materials with plastic, but I believe that, for some of your machines, the principle is the same.
The purpose of this is to add a layer of protection to the drain pipe, so it can filter the water without the problem of clogging it.
I believe the photos  and the video will help:
This is the HDPE drain pipe. Diameters would vary between 50 – 100 mm. 
This is the non-woven fabric, also know as geotextile (the color is not important).
The idea is to wrap the goetextile around the drain pipe, like this. Notice that this are pre-fabricated "drain sleeves". What I had in mind was using your wrapping technology to add the geotextile as it is going into the machine.


Something like titler (link to video) but instead of the plastic material we would put the geotextile.

The objetive was of inserting the tube already wrapped into the ground, in the process of what is know as agricultural subsurface drainage. Like this:
I will understand if this request is out of your company's scope.

Comments are closed. Posted by: fhopepack on January 21, 2016

Tags: coil tilter, tilter, upender