Door wrapping machien and door packing machine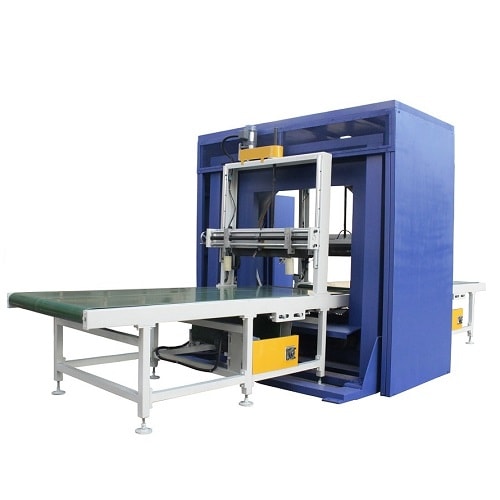 Please check the answers:
Need your input on below info before we can decide
1. Cost of the machine please provided both type ( please suggest to us which model of your machine suitable for our job; machine price )
——-#1 Automatic Sealing&Shrinking machine: It need a customized solution $26,000 similar as follwoing:
https://www.shjlpack.com/markets/door-packing.html
——#2 Automatic wrapping mcahine: SHGG-600 $14,500
http://www.shjlpack.com/info/horizontal-stretch-wrapper-and-pipe-packing-machine/
2. advantage and disadvantage of each type.
#1: advantage: Good looking and full size sealed packaging (good for selling package)
disadvantage: Need to change the forming device per each size of bundle. And more power consumpation uptp 50Kw/houw
#2 advantage: Flexiable for different size packaging, more tightening in packaging.
disadvantage: Head and tail can not be wrapped. Surface with film wrinkle(good for shipping)
http://www.shjlpack.com/info/horizontal-wrapping-machine-with-sealing-station/ —-This sealing+wrapping for head&tail wrapping. If so the packing material will cost more.
3. operation cost of each machine ( film cost of each machine)
Sorry, i don't have pricision data. For the material the weight of each is almost same.
4. Max film tension for each type of packing
—–Sorry not data can be shareing. Shrinking tesnion is less that strapping as your current packing. Stretch wrapping tension is more than strapping.
Automatic door shrinking machine for door packaging with high speed.