Description:
This is tyre wrap packing machine designed for big tyres and big packing material roll . It fixs the packing material next to wrapping station. It is able calculate the length of packing material required for a tyre packaging. Automatic material cutting. It releases the labor from manual tyre packing.
Features:
1. Different material using in the tyre wrapper.
2. Packing ring position automatic reset function.
3. Auto and semiauto mode for easy operation.
4. The inverters adjusting the for the ring and rollers for soft stop&start..
5. 10%-90% overlap packing
6. Material fix on the ring for packing.
7. Guardrails, soft starts and stop for safety operation.
8. Different tyre OD&ID adjustment.
9. Packaging tension is adjustable by special breaker.
10.Indicator alarms automatically when trouble occurs. Trouble can be shown automatically.
11. Packing tension is adjustable vary from packing requirement.
12. Widely packing material applicable, film, paper...
13.Logo tapping device for wrapping logo same time
Customized tyre packing machine is for motorcycle aids satisfy the need for easy access to tyre packaging requirement. Optional on-board program control provides instructions on the touch scream. Whole parts technical documentation with video and pictures simplifies maintenance and maximizes uptime.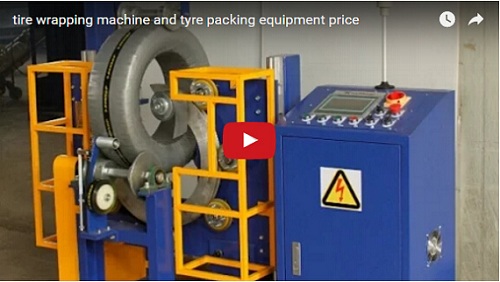 Parameters:
FPT-100

FPT-200

FPT-300
Voltage (V/Hz)
AC 380/50( or your requirement)
Power (KW)
1.2
1.5
2.0
Tyre ID(mm)
150-400
300-800
500-1000
Tyre OD(mm)
200-500
500-900
800-1200
Tyre width(mm)
10-100
50-200
50-300
Tyre Weight(Kg)
2-10
10-30
10-100
Packing material
PE/Stretch film/knit belt/PP/Sliver paper
Ring speed(r/min)
30-80
30-80
30-70
Wrapping speed
20-30sec/pcs
25-35sec/pcs
30-45sec/pcs
Overlapping rate
20-80%
Related machines: Cable packing machine Hose coil wrapping machine
Cable coil wrapping machine Copper coil wrapping machine