FPS Series: Steel coil packing machine FPS-500
FHOPE FPS-500 is an simplified Steel Coil Packing Machine which loading and unloading from the top size by crane. The coil packaging machine engineered for flexibility, low maintenance and high operating speed, our steel strip coil packaging machines are renowned for delivering consistent product quality. These packaging machines are tailor-made to meet the specifications of our customers. Consolidating Market Share Over the years,
Description:
FPS-500 series steel coil packaging machine is highly efficiency and good in nice coil packaging for saving labor cost and material cost, which adopted for steel coil, steel strip packaging. The packaging method is eye crossing wrapping. The final package for steel coil is nice, firm and good for dustproof, waterproof by reducing the amount of air in the package and reducing the possibility of corrosion or water spots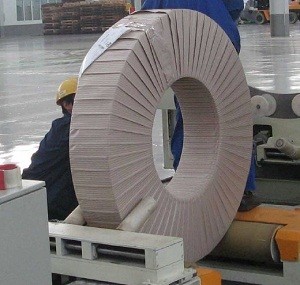 Features:
1. Trolley forward and backward for coil operation.
2. Special system with PLC for easy loading and unloading.
3. Manual and automatic two working modes are easy operation.
4. The inverter to control the speed of the ring and rollers.
5. Overlap of the packing tape according to requirement.
6. Automatic material cutting.
7. Sensor and fence for safety in coil handling and wrapping
8. Different coil packaging by height level control.
9. Special breaker is for packaging tension adjustment.
10. The rollers are wrapped by polyurethane for protect the surface of the coils.
11. The part of the coil packaging machine could be modified based on the product
12. The tape release device to avoid material folding.
13. Different material and different packaging.
14.Wrapping adjustment through HMI and touch screen
15. Addition safety safeguarding and alarm for products packaging.
16. Strong structure and durable quality designing with long life.
Note: Can be designed according your specification.


Outfitted with PLC control system and safety safeguarding and alarm products

Designed specifically for the heavy and enormous items

Parameters:
FPS-500

Voltage (V/Hz)

380v 50Hz 3Phase

Power (KW)

3.0kw

Steel coil ID(mm)

508-610mm

Steel coil OD(mm)

700-1100mm

Steel coil width(mm)

100-500mm

Steel coil Weight(Kg)

100-1200kg

Packing material

PVC/LLDPE/PE/PAPER/HDPE

ID:50mm OD:100-450mm Width:100-120mm

Overlapping rate

10%-90%

Air supply.

5-7kgf/ c㎡
Related machines: Steel Wire wrapping machine Hose coil wrapping machine
Coil wrapper for steel Copper coil wrapping machine
Fhope Coil Packaging machine have consolidated our market share in the domestic and overseas markets through consistent supply of quality machines at competitive prices. Manufacturing More Than 25 Models of steel wire Packing Machines. Along with sophisticated technology, we are manned by a diligent team of highly trained professionals and experienced technocrats. For more information about steel coil packing solution you can click here