COIL TIPPER FOR SALE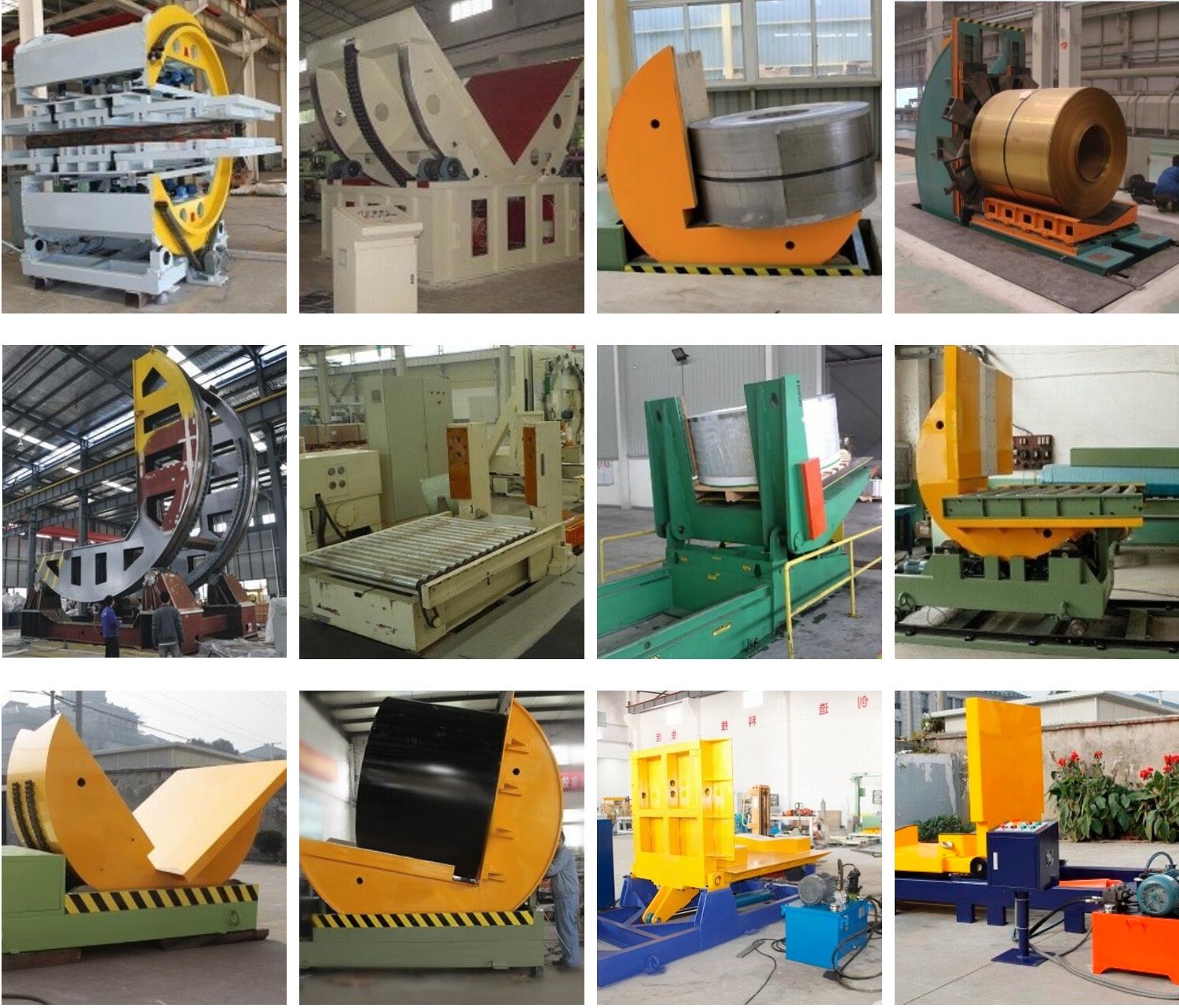 FHOPE is responsible to design the vertical one-piece turning equipment and carry out all manufacturing processes and commissioning measures.
The main business of Fhope is to provide equipment for the steel industry packaging, construction industry, and food and beverage can industry.Steel construction industry leaders in many countries are in need of such packaging equipment.
FHOPE machines can also be used in a variety of industries including prefabricated construction, metal construction and component manufacturers, steel decks, steel structural beams and granaries.

Features & Options:
The rotation mode allows the pallet to be rolled 90 degrees, while the base can be rotated 180 degrees, allowing the forklift operator to load and unload from the same position for increased efficiency.Equipped with gear drive and chain drive mode to meet your production requirements.
In the non-rotating mode, the tray is inverted 90 degrees, so that the loading and unloading position is opposite direction;This configuration is usually preferred for unloading crane equipment.
The auxiliary grooved wheels and slings for special workpieces can be replaced, which can make the overturned workpieces have no hoisting marks.
Using this equipment can improve the turning speed and efficiency, and greatly reduce the time and worker cost for users.
The suspended turnover machine needs to be used in combination with traveling crane, and can also be used in field turnover with crane. As long as the equipment can be lifted, it can be turned freely, conveniently and quickly.
Main classification According to the maximum turning angle, the turning machines can be divided into 90 turning machines and 180 turning machines. According to its realized performance, it can be divided into steel coil upender machine, mold turnover machine and plate turnover machine. The steel coil upender machine can lift the heavy steel coil onto the V-shaped surface of the upender machine, and through 0-90 turning, the steel coil can be horizontally placed on the tray. When repairing large and medium-sized molds, the mold upender machine can turn the molds by 0-90 degrees, which is convenient, labor-saving and safe to open, close and hoist the molds. It is an indispensable auxiliary equipment in stamping workshop, and it is also an equipment for repairing large dies.