Fhope Series: Semiauto rotary arm stretch wrapper
Description:

The Semiauto rotary Arm Stretch Wrapper with special creative frame. This rotary arm stretch wrapper concept keeps the load to be wrapped stationary on the ground. The stretch film in pre-stretch carriage rotates around the load so that the pallet well wrapped by film . The rotary arm stretch wrapper is the perfect solution for very tall, too heavy even too light loading wrapping. The stretch wrapper is widely used in chemical industry electronic industry building materials home appliances papermaking foodstuff & drink etc.
Technical Features: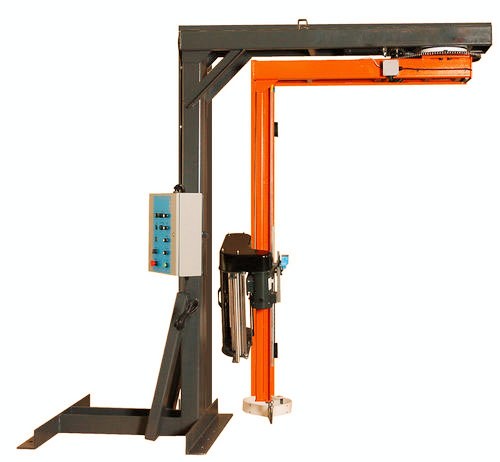 1.Larger, Heavier, and Faster wrapping

2.Constant loading and unloading of heavy pallets on the turntable

3.Flexibility wrapping for pallets

4.Film saving

5.Easy operation
l Photo-eye pallet height sensor
l separate top ,bottom & up-down wrap count selectors
l Photo eye sensing for height level control
l Reinforce wrap allow more wrap on same location.
l Wrapping position reset
l Blocker detecting and auto stop for safety.
l Consistent, repeatable stretch wrapping package.
l Film Tension and pre-stretch control
l Variable rotary arm speed by inverter
l Separate variable carriage up/down speed
l Cycle pause capability
l Separate start, reset and emergency stop buttons
l Film carriage up/down switch
l Rotary arm wrapping jog button
Structure
l Heavy ring bearing drive system
l Steel cross member reinforcement in standing gantry
l Position rotary arm alignment
l Soft start /soft stop
l Heavy duty chain drive
l Powered pre-stretch system up to 250% to min film consumption(Prestretch ratio can be specially made according your requirements.)
l Carriage door opens for effortless roll change and thread film
l Film delivery variable speed by separate DC Drive Motor
l Film dancer-bar with variable speed output
l Heavy duty double-chain carriage lift, calm and safety
Option
a. Surround fencing b. Pneumatic top plate c. Pneumatic film grab and cut off system d. Packing height: 2500mm
e. Machine color f. film carriage upgrate g. Remote control
Parameters:
FHOPE-D100
FHOPE-D200
FHOPE-D300
Control Mode
Semiauto
Auto
Max load size(mm)

1400 (L)×1400(W) ×2000(H)

Rotary diameter
1500mm
Max load weight(Kg)
No limited
Power supply

220V 50HZ 1Phase

Power (KW)
1.5
1.5
1.5
Machine weight(Kg)
700
700
700
Turn table speed(rpm)

3-13rpm

3-14rpm

3-14rpm

Tension control
Mechanical
Pre-stretch
Pre-stretch
Height control
Manual
Sensor
Sensor
Packing speed

20-40 loads/h base on load
The semiatuo rotary arm wrapping machine has saved many of hours packing time for forktruck and operator operation. The forktruck operators is able to work uninteruptedly. Because of they don't have to get off the forktruck and don't have to wait for their pallet loads to be wrapped. They just pull a lanyard switch even romote control to start the semiauto rotary arm wrapping machine when loads ready for packing. The film can be automatically attached and cut. The operators are free to do other things in the plant when semiauto rotary arm stretch wrapper is in wrapping.The patented solution that providing well sealed packing to the pallet to reduce load shifting, product damage in transporation.
Pallet stretch wrapping machine-A100 Pallet stretch wrapping machine-A300 Rotate ring stretch wrapper
Automatic pallet stretch wrapping machine Rotate arm stretch wrapping machine Stretch hood machine
Download Brochure
Video
Send Inquiry
Contact us