Industry News
Coil packaging machinery industry in China ---2013-07-30
Although the coil packaging machinery industry in China started relatively late, after decades of development has achieved very good results. Nowadays under the impetus of the new and high science and technology, relying on independent innovation, gradually opened the door of the international market, development prospect is immeasurable.
Over the years, coil wrapper provides important technical support in packaging industry, plays an important role on the development of packaging industry. More and more packaging experts think that packaging industry is the way of the development of coil packaging machinery. Coil wrapper industry on the basis of absorbing advanced foreign technology innovation has now formed a complete industry system.
Since joined the WTO, China has made great progress, coil wrapper level improves very quickly, and with the world advanced level gap is narrowing. As China's increasingly open, China's coil packaging machinery will further open the international market. The current China's coil packaging industry increased significantly in the position in international peers, influence is also growing.
International advanced coil packaging equipment suppliers have aggressively into China of each industry, and are still under expansion, their products with reliable stability, humanized design, and high technological features have conquered many enterprises. In such a case, the coil packaging machinery industry in our country should foster strengths and circumvent weaknesses. On the basis of introduction and absorption, pay full attention to equipment research and development and innovation, with more perfect products, more thoughtful, more adequate facilities and more sophisticated manufacturing, to impress the domestic and international customers.
At present domestic coil packaging machinery manufacturers is committed to high-tech research and production of high quality and reliable service. As the change of the market, the domestic coil packaging machinery is also growing; the domestic coil packaging machinery manufacturers are heading on fast development, low energy consumption, low cost coil packaging equipment.
In aggregation, at present our country most of relatively advanced coil packaging machinery research and development are still in the phase of imitation, independent development capabilities are very limited. Therefore, many foreign big companies introduce their own technology and components into China, the local processing, which reduces the cost, launched a fierce competition with domestic products.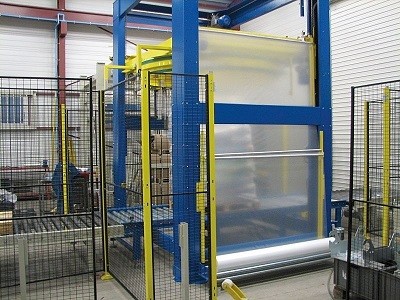 The stretch wrapper is with automatic top sheet applicator for on-line high speed pallet packaging.
Welcome to contact with us for further information.
link:www.fhopepack.com
Tags: Coil wrapper, hose coil wrapper, coil stretch wrapper
| | |
| --- | --- |
| | First Prev Next Last Page: 1 of 1 Go to : Pages |