Industry News
Chinese steel tube packing line-(13)--2013-09-22
Fhope is a Corporation in China in packaging equipment and materials research, manufacturing, sales and after-sales service .Most of our machine is for following objects, Coil, straight object, pallet load including steel tube packing line.
Chines steel tube packing line
Monitoring software for tube packing line
Besides providing Tube packing line with operation interface, the UP monitoring software also controls the whole working procedure of bundle forming and strapping. Its main functions are as follows.
To automatically identify incorrect information and give an alarm.
To automatically monitor the system working, such as working situations at each position, bundle sizes and working speed, etc.
To set up database for bundles and process data in different ways. It is able to make statistics according to time, types and contract numbers, etc. The database can be managed in different ways, e.g. system management, manual management and password management. This ensures the system reliability and security. The statistic results can be displayed either in various diagrams or in report forms as per user's requirements.
To automatically collect and track tube parameters, say, attribute, weight and length, from the measuring system. Manual operation is allowed in the tracking procedure; the operator can input tube parameters.
To calculate relevant parameters, including the width of the forming-bed arms and bundle carrier arms.
To print labels conveniently.
System working in Windows 2000
System developed in Delphi 6.0
Communication of tube packing line. This system is supposed to communicate with UP PC and to transform necessary operational and technical information to the UP computer, (The key point is to communicate with previous working procedures, especially length measuring, weighing and printing procures. The measuring system provides the forming system with bundling information such as tube weight, tube length and storing information, while the forming system provides the measuring system with bundling information required.)
The monitoring system of UP PC consists of the following four functional interfaces.
Main Monitoring Interface
Parameter Setting Interface
Data Management Interface
System Maintenance Interface
Other Machines
--Steel coil wrapping machine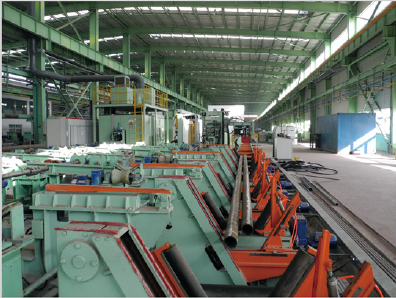 --Wire wrapping machine
--cable wrapping machine
--bearing wrapping machine
--pipe wrapping machine
--copper wrapping machine
--tyre wrapping machine
For straight object packing solution
--Door packing machine
--Panel packing machine
--Profile packing machine
--Tube packing machine
--Aluminum packing machine
For Pallet packing solution
--Pallet stretch wrapper
--Rotate arm stretch wrapper
--Automatic turntable pallet wrapper
For automatic packing solution
---PVC pipe packing line
---Coil packing line
---Aluminum packing line
---Automatic pipe bundle packing machine
From link:www.fhopepack.com
| | |
| --- | --- |
| | First Prev Next Last Page: 1 of 1 Go to : Pages |