Industry News
Chinese steel tube packing line-(12)--2013-09-22
Fhope is a Corporation in China in packaging equipment and materials research, manufacturing, sales and after-sales service .Most of our machine is for following objects, Coil, straight object, pallet load including steel tube packing line.
Chines steel tube packing line
Electric control system
The block diagram in Picture 5 shows the electric control system. The electric control system is used to manage and track the whole working procedures, to transform information from each working position and to display and manage data. PLC (S7-300), industrial PC and transducers, etc. are connected, with the use of BUS, to form a controlling network with clear arrangement. The control system has three working modes: automatic, semi-automatic and manual.
The basic features of the electric control system are as follows.
Centralized management and decentralized control. PLC automatically manages some parts of the system. PLC is designed to be the primary station DPM 1 of the system (central control). By communicating with PLC, industrial PC DPM 2 realizes functions like management and search.
Each sub-system is control by a corresponding sub-control module, which communicates with the main control system by sharing EMS memory. This control module dose not require highly on main control system, except for good system stability.
In the communication of processors, we use RS232 and RS485 standard joints, which keep the communications flexible and reliable.
The system intranet is connected by Profibus with spare joints for extension purpose.
Other Machines
--Steel coil wrapping machine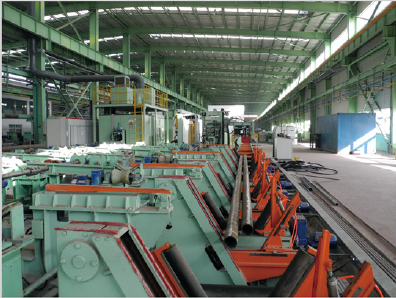 --Wire wrapping machine
--cable wrapping machine
--pipe wrapping machine
--copper wrapping machine
--tyre wrapping machine
For straight object packing solution
--Door packing machine
--Panel packing machine
--Profile packing machine
--Tube packing machine
--Aluminum packing machine
For Pallet packing solution
--Pallet stretch wrapper
--Rotate arm stretch wrapper
--Automatic turntable pallet wrapper
For automatic packing solution
---Coil packing line
---Aluminum packing line
---Automatic pipe bundle packing machine
From link:www.fhopepack.com
| | |
| --- | --- |
| | First Prev Next Last Page: 1 of 1 Go to : Pages |