Industry News
Chinese manufacturer for stretch wrapping machine--2013-12-02
Your valuable and fragile product on a pallet more than 1.5m height and how to keep that pallet safe during storage and transportation. Most of people have to think that companies and logistic team would pay special attention with a lot of work to the risk of damage when moving products from warehouse to customer.'says Mr.Yang, Chief Manager at Chinese manufacturer for stretch wrapping machine-Fhope.
Using Stretch wrapping machine to secure very loads to a pallet is an ideal way of protecting palletized products from damage in warehouse, truck, shipping...Developed with the end user in mind, with smart design, and experience manufacturing make a Chinese manufacturer for stretch wrapping machine is able to meet your packing goal.
Chinese supplier for stretch wrapping machine-Fhope are pleased to announce the release of a pallet stretch wrapper that dramatically reduces ongoing maintenance costs and enhances operator safety whilst offering excellent stretch ratio (250%) and load stability. This all NEW, Chinese designed pallet wrapper.
Your reputation rests on what you deliver to your customers. The wrapped pallet makes sure your valuable pallet loads are safe to ship. The special designed film delivery system is combined with easy to use and understand. The machine gives you professional results on every load.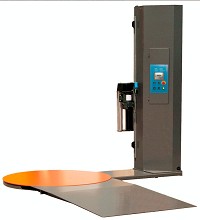 Fhope--Chinese stretch wrapping machine supplier service for you.
Keywords: Chinese stretch wrapping machine, Chinese supplier, Chinese manufacturer.
| | |
| --- | --- |
| | First ; Prev Next Last Page: 1 of 1 Go to : Pages |