Industry News
Market great potential of packaging machinery---2013-07-24
There is a great potential of packaging machinery in our country—Automatic Ring stretch wrapping machine. With the development of modern science&technology, micro-electronics, computerization, sensor technology, new packing material will be widely used in that for high speed pallet wrapping.
The manufacturer must study and introduce new science and technology constantly to manufacture new kind of machine, with high production efficiency, great autoimmunization, superior quality, advanced technology and good flexibility.
Cic's consultant published a report "2013-2017 forecast of China Packaging Machinery Industry Investment Analysis and Outlook". At the beginning, it introduces the classification and usage of packing machine for some special equipment including--automatic ring stretch wrapping machine. And then it analyzed the packaging machinery industry's development situation and technique level.
In the end, it analyzed the running state of important enterprises of packaging machinery. In function, the packaging machinery industry should be in the direction of multi-function and elaboration. In technique, it needs to connect with other advance technology, such as electromechanical integration technology, stretch hood technology, remote monitoring technology, automatic flexible compensation technology and etc. Making this industry becomes more and more prosperous.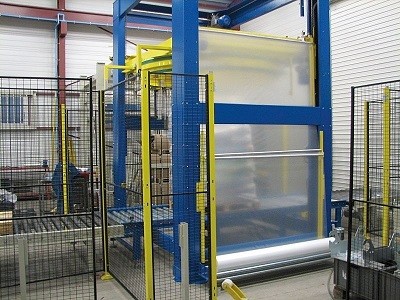 The stretch wrapper is with automatic top sheet applicator for on-line high speed pallet packaging.
Welcome to contact with us for further information.
link:www.fhopepack.com
| | |
| --- | --- |
| | First Prev Next Last Page: 1 of 1 Go to : Pages |