Industry News
Steel Tube Bundle Packing line in Fhope-(8)--2013-09-06
Fhope is a Corporation in China in packaging equipment and materials research, manufacturing, sales and after-sales service .Most of our machine is for following objects, Coil, straight object, pallet load.
The pipe/tube packing line for mill is an automatic packing system including pipe bundle making, strapping...
Main steel tube bundle packing line Descriptions
Main technical parameters and standards
Design standards
Mechanical design standards: MSM
Electric design standards: IEC
Equipment color: as per Buyer's requirements
Bundle size
Diagonal length: 260~800 mm
Hemline width: 180~600 mm
Tubes are aligned on one end with tolerance less than 3 mm
Single bundle weight is no more than 4tons.
Single layer weight is no more than 2000kg.
Working speed: tubes without couplings or guard rings on both ends (please refer to Picture 1)
While less than 8 tubes in a layer, time for forming this layer will be: T=6+1+2+1+2+8+8+3=31 seconds (Max 8 tubes are allowed in any layer in this equipment.)
While 7 or more tubes in a layer, time for forming this layer will be T=(2+2)*8+1=33 seconds.
Other Machines
--Steel coil wrapping machine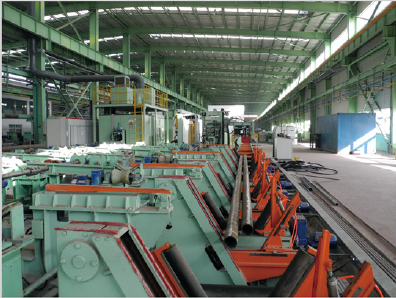 --Wire wrapping machine
--cable wrapping machine
--hose wrapping machine
\Hose_packing_machine.html--bearing wrapping machine
--pipe wrapping machine
--copper wrapping machine
--tyre wrapping machine
For straight object packing solution
--Door packing machine
--Panel packing machine
--Profile packing machine
--Tube packing machine
--Aluminum packing machine
For Pallet packing solution
--Pallet stretch wrapper
--Rotate arm stretch wrapper
--Automatic turntable pallet wrapper
For automatic packing solution
---PVC pipe packing line
---Coil packing line
---Aluminum packing line
---Automatic pipe bundle packing machine
From link:www.fhopepack.com
| | |
| --- | --- |
| | First Prev Next Last Page: 1 of 1 Go to : Pages |