Industry News
Steel tube Bundle Packing solution in Fhope-(7)--2013-09-06
Fhope is a Corporation in China in packaging equipment and materials research, manufacturing, sales and after-sales service .Most of our machine is for following objects, Coil, straight object, pallet load.
The pipe/tube bundle packing line for mill is an automatic packing system including pipe bundle making, strapping...
Working process
The working process of Steel pipe/tube bundle packing line is as follows. The underlined parts below are to Buyer's scope of supply.
Tube reaching the charging position through conveying roller way (feeding)——aligning (single tube)——loading (kick-out device) ——counting tube numbers for one layer——tube-layer conveyed (folk) ——tube-layer stacked ——bundle forming-bed declined——shaped bundle conveyed——manual strapping——strapped bundle conveyed to storing bench (roller way) —— unloading
Important technical parameters
Tube bundle shapes
Steel pipe/tube bundle packing line can form tube bundles into hexagon, triangle, and so on.
Relations between tube diameters, number of tubes in each bundle and bundle weight
Each bundle weight should be no more than 4t according to relevant standards and deign requirements. Therefore, for tubes of different diameters, it is vital to arrange reasonable tube numbers and weight scopes. Based on tube specifications and length, the computer system in the forming equipment automatically calculates tube weight and displays optional bundle shapes on the monitoring interface. Options are also available for tubes that need special treatment. After a certain option is picked, bundles can be formed automatically.
Other Machines
--Steel coil wrapping machine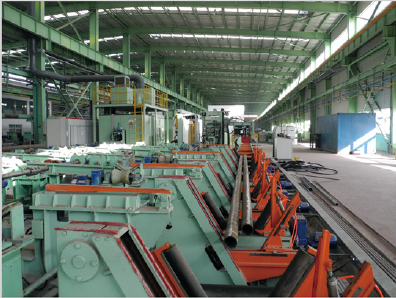 --Wire wrapping machine
--cable wrapping machine
--bearing wrapping machine
--copper wrapping machine
--tyre wrapping machine
For straight object packing solution
--Door packing machine
--Panel packing machine
--Profile packing machine
--Tube packing machine
--Aluminum packing machine
For Pallet packing solution
--Pallet stretch wrapper
--Rotate arm stretch wrapper
--Automatic turntable pallet wrapper
For automatic packing solution
---PVC pipe packing line
---Coil packing line
---Aluminum packing line
---Automatic pipe bundle packing machine
From link:www.fhopepack.com
| | |
| --- | --- |
| | First Prev Next Last Page: 1 of 1 Go to : Pages |