Industry News
Tube Bundle Packing solution in Fhope-(6)--2013-09-05
Fhope is a Corporation in China in packaging equipment and materials research, manufacturing, sales and after-sales service .Most of our machine is for following objects, Coil, straight object, pallet load.
The pipe/tube packing line for mill is an automatic packing system including pipe bundle making, strapping...
Technical level
This Tube packing line for mill has been successfully applied in different enterprises and different production lines. Continuous improvement and development make it reach a high technical level.
Integrating photic, mechanical, electrical and computer technologies and applied distributivity domain principle, the tube/pipe packing line system realizes automation in forming triangle or hexagonal tube bundles. A servo motor controls the elevation movement so as to ensure precise positions of each tube-layer in the bundle forming-bed. In aspect of software design, we use database and network techniques, configuration techniques, redundant techniques and real-time control system. The system interface is clearly designed and simply and flexibly operated with alarming function and self-check function, which makes it possible for information in working procedures. The tube/pipe packing line system is able to work steadily and constantly for 24 hours perennial. Therefore, it greatly enhances the automation technology and working efficiency of user's plant.
To summarize, the research and development of tube/pipe packing line is a success. The whole technologies keep ahead at home, and its measuring precision and packaging quality can compare favorably with the same products abroad.
Other Machines
--Steel coil wrapping machine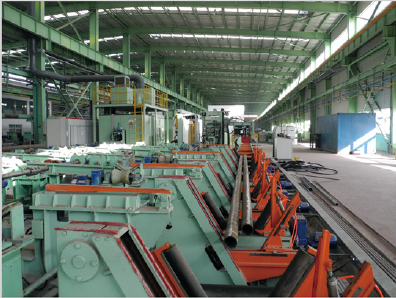 --Wire wrapping machine
--cable wrapping machine
--hose wrapping machine
--bearing wrapping machine
--pipe wrapping machine
--copper wrapping machine
--tyre wrapping machine
For straight object packing solution
--Door packing machine
--Panel packing machine
--Profile packing machine
--Tube packing machine
--Aluminum packing machine
For Pallet packing solution
--Pallet stretch wrapper
--Rotate arm stretch wrapper
--Automatic turntable pallet wrapper
For automatic packing solution
---PVC pipe packing line
---Coil packing line
---Aluminum packing line
---Automatic pipe bundle packing machine
From link:www.fhopepack.com
| | |
| --- | --- |
| | First Prev Next Last Page: 1 of 1 Go to : Pages |