Industry News
Tube Bundle Packing solution in Fhope-(5)--2013-09-05
Fhope is a famous Corporation in China in packaging equipment and materials research, manufacturing, sales and after-sales service .Most of our machine is for following objects, Coil, straight object, pallet load.
The pipe/tube packing line for mill is an automatic packing system including pipe bundle making, strapping...
Brief Introduction
The Tube Bundles Automatic Forming and Binding Equipment is researched and developed independently. It is a production line specially used in steel tube packaging. According to stipulations of GB/T 247-1997, API, etc., steel tubes that meet relevant requirements should be transported in bundles. Therefore, a procedure of forming and binding tube bundles is added at the end of tube production line.
Based on the analysis of practical bundling conditions and procedures, the tube/pipe bundling and packing system integrates advantages of various advanced forming and binding machines abroad. The system is designed to be a perfect-functioned automatic forming and binding production line that can deal with different types of steel tubes. According to specific technical requirements and tube layer conveying methods, this equipment introduces servo-driven mode, folk to convey tube layers and bundles strapping system with manually or automatically (XCX-4). It is featured as follows.
Automatic operation enhances working efficiency;
The strapped bundles are firm and tidy, with hexagonal or triangle shape;
It greatly reduces workers' labor intensity and dangers in manual operation.
Other Machines
--Steel coil wrapping machine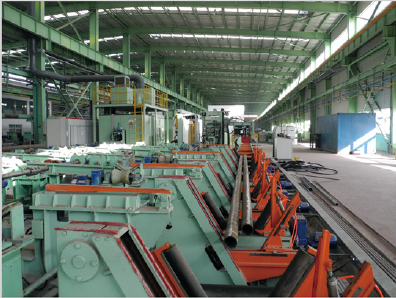 --Wire wrapping machine
--cable wrapping machine
--hose wrapping machine
--bearing wrapping machine
--pipe wrapping machine
--copper wrapping machine
--tyre wrapping machine
For straight object packing solution
--Pipe packing machine
--Door packing machine
--Panel packing machine
--Profile packing machine
--Tube packing machine
--Aluminum packing machine
For Pallet packing solution
--Pallet stretch wrapper
--Rotate arm stretch wrapper
--Automatic turntable pallet wrapper
For automatic packing solution
---PVC pipe packing line
---Coil packing line
---Aluminum packing line
---Automatic pipe bundle packing machine
From link:www.fhopepack.com
| | |
| --- | --- |
| | First Prev Next Last Page: 1 of 1 Go to : Pages |