Industry News
Tube Bundle Packing solution in Fhope-(3)--2013-09-04
Fhope is a world famous Corporation in China in packaging equipment and materials research, manufacturing, sales and after-sales service .Most of our machine is for following objects, Coil, straight object, pallet load.
General Descriptions
Equipment Composition
Tube/pipe bundling packing line is designed to form bundle shape before tubes are strapped. pipe /tube packing line, consisting of automatic forming machine, conveying roller way, a basic design of conveying equipment after strapping, and so on, is used to carry out series of tasks, mainly, single tube loading, automatic stacking to required triangle or hexagonal bundles and conveying shaped bundles to strapping position.
Based on different tube lengths and bundle weights, Pipe/tube packing line can calculate number of strapping needed in each bundle.
The conveying roller way is, on one hand, designed to be a position where manual strapping can be done. On the other hand, it conveys bundles to storing equipment.
4.2 Design Concepts
The design of the pipe/tube packing line system is completely based on user's actual manufacturing needs. It aims to realize the following aspects.
High reliability
This system will have high reliability and low maintenance by optimizing the whole design and using reliable components.
Easy for maintenance
We have made efforts in the following aspects to realize easy maintenance. First, we standardize the design with complete spare parts list. Second, we continuously improve the monitoring software intelligence. By such improvement, the monitoring software can automatically check and find out the accurate position of machinery failures, and alarm audibly and visually. This is an effective way to improve self-checking ability and promote maintenance operators' efficiency in discovering and solving machinery problems.
High efficiency
Based on user's actual producing situation, pipe/tube packing line are reduced by specially designed software. System's flexibility is also improved, which means that every processing position can open or close freely. It reduces unnecessary waiting time.
Other Machines
--Steel coil wrapping machine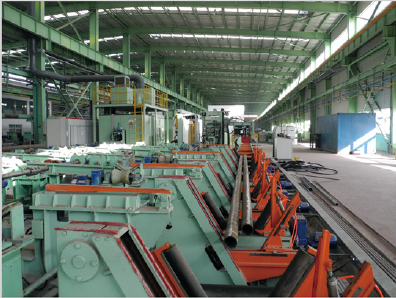 --Wire wrapping machine
--cable wrapping machine
--hose wrapping machine
--bearing wrapping machine
--pipe wrapping machine
--copper wrapping machine
--tyre wrapping machine
For straight object packing solution
--Pipe packing machine
--Door packing machine
--Panel packing machine
--Profile packing machine
--Tube packing machine
--Aluminum packing machine
For Pallet packing solution
--Pallet stretch wrapper
--Rotate arm stretch wrapper
--Automatic turntable pallet wrapper
For automatic packing solution
---PVC pipe packing line
---Coil packing line
---Aluminum packing line
---Automatic pipe bundle packing machine
From link:www.fhopepack.com
| | |
| --- | --- |
| | First Prev Next Last Page: 1 of 1 Go to : Pages |