Industry News
Steel Pipe/Tube Bundle Packing line in Fhope-(10)--2013-09-13
Fhope is a Corporation in China in packaging equipment and materials research, manufacturing, sales and after-sales service .Most of our machine is for following objects, Coil, straight object, pallet load.
Tube-layer forming and bundle forming mechanism
Tube-layer forming/ Tube bundle forming
Loading chains carry tubes one by one from alignment roller way to tube-layer forming bench (chains). The forming bench (chains) is slightly sloped, so tubes can roll along the bench and are finally stopped by a stock-stop. When a required number is reached, a cam mechanism controls the bench to decline, so that the tube-layer falls to the conveying
Tube-layer conveyed to the folk position
The bench moves downward, and then the conveying chain is driven to convey the tube-layer to the folk starting position. The chain moves 1/3 circuit each time. The photoelectric cell collects stock-stop's position on the chain to control the movement.
Tube-layer conveyed by the folk When a layer gets to the folk starting position, the folk first lifts up, then moves forward, and reaches the position above bundle forming-bed. The folk declines, then puts the layer into the forming bed and finally withdraws. This is a layer stacking cycle. Because the folk is slightly sloped, tubes can automatically roll to the forming bed when the folk declines.
Bundle forming device
After the layer is put into the forming-bed, firstly, the bed declines for a certain distance to make sure the next layer can be properly laid upon the previous one. The above mentioned distance will be determined by photoelectric encoder and servo motor. When required layers have reached, which means that the requested bundle is formed, provided that the bundle carrier device is ready, the bed goes down to the lower-limit position and transformed the shaped bundle to the carrier. The UP PC indicates the falling position and servo motor positions precisely. A stock-stop, installed on the external side of the forming-bed, is used to ensure the proper stacking position of each layer. When the shaped bundle is put into the conveying carrier, the stock-stop releases to let the carrier away.
Other Machines
--Steel coil wrapping machine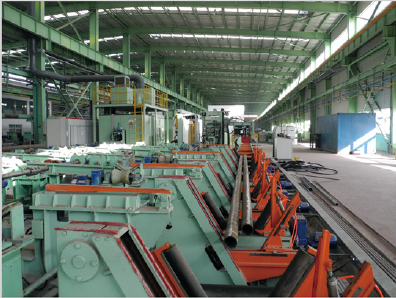 --Wire wrapping machine
--cable wrapping machine
--bearing wrapping machine
--pipe wrapping machine
--copper wrapping machine
--tyre wrapping machine
For straight object packing solution
--Door packing machine
--Panel packing machine
--Profile packing machine
--Tube packing machine
--Aluminum packing machine
For Pallet packing solution
--Pallet stretch wrapper
--Rotate arm stretch wrapper
--Automatic turntable pallet wrapper
For automatic packing solution
---PVC pipe packing line
---Coil packing line
---Aluminum packing line
---Automatic pipe bundle packing machine
From link:www.fhopepack.com
| | |
| --- | --- |
| | First Prev Next Last Page: 1 of 1 Go to : Pages |