Wooden timber packing machine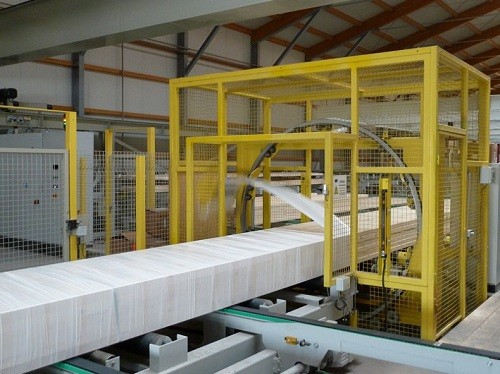 Specification:
Description:
Wooden timber packing machine is a type of automatic horizontal stretch wrapping machines developed for packing wooden panels, strips, floor, floor molding etc. It can be designed for different size, shape wooden package.
This in different lengths and is suitable for products with length from 0,5 meter to really long products, which is possible to run mixed. it is with highly efficiency and nice packaging for saving labor and material cost. The packaging material can be choose from stretch film to paper, PE film...

Features of wooden packing machine:
Wrapping Station:
l Strong Ring and wheel devices make working more safe stable & energetic.
l Friction between driving wheels and ring is adjustable for heavy or light wooden package.
l Speed of the ring is adjustable by inverter.
l Soft start and start. l Wrapping position reset.
l Packing material tension could be adjusted for different wooden packing.
l Widely packing material adopted by material frame.
l Protect guardrail for safety operation.
l Overlapping is adjustable from 10%-90%
Conveyor System:
l Roller conveyors for protecting the surface of the product
l Automatic entrance conveyor system and outlet conveyor system.
l Conveyor adjustment function. l Conveyors drive by motor with gear box.
l Speed of the conveyors is adjustable by inverter.
l Sensor detecting the objects for operation action.
Automatic wrapping protective System:
a) Both side protective devices adjustable to avoid products shaking in wrapping.
b) Two sets of the right and left protect device on in-feeding and out-let conveyor.
c) The action time of protective devices are adjustable for difference packing purpose by program.
The Panel shrinking machine are available in many different solutions and can be delivered with stacker, sealing stations for turning the door, assembly stations, stacker for pallets, shrink tunnel etc. We will help you with separate machine or complete lines according specification.
The advantage of the Panel packaging by panel shrinking machine:
1. Nice packaging surface
2. Material costs lower
3. Easily maintaining.
4. Full sides sealing
5. Highly efficiency
The disadvantage of the panel packaging by panel shrinking machine:
1. Power consume during 30-50KW/H
Download Brochure
Send Inquiry
Contact us