Wooden timber packing machine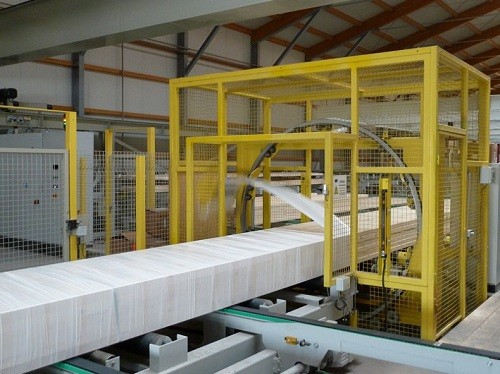 Specification:
Description:
Wooden
t
imber packing machine
is a type of automatic horizontal stretch wrapping machines developed for packing wooden panels, strips, floor, floor molding etc. It can be designed for different size, shape wooden package.
Wrapping Station:
Basic feature of the main wrapping station
Reinforce aluminum cast-solid ring with strong structure makes steady in wrapping
Four-ring & double-PU wheel devices make working more safe stable & energetic.
The higher level main board with stronger structure and frame for wrapping.
Friction between driving wheels and ring is adjustable.
Speed of the ring is adjustable by inverters.
Soft start and start and ring jog.
Sensor for wrapping position automatic reset.
Packing material tension could be adjusted.
Widely packing material adopted by material frame.
Protection shield covering the machinery structure and moving parts of safe operation.
Overlapping is adjustable from 10%-90%
Wrapping start and stop points are adjustable.
The relative figure adjustable on touch screen.
Conveyor System:
Conveyor designed works for forkman loading and unloading.
Automatic infeed conveyor system and outfeed conveyor system.
Conveyors driven by motor with gear box.
Speed of the conveyor is adjustable by inverters.
Sensor detects the object for operation action.
All moving parts in drive system are well covered by shield.
Automatic wrapping protective System:
a) Both side protective devices adjustable to avoid products shaking in wrapping.
b) Two sets of the right and left protect device on in-feeding and out-let conveyor.
c) The action time of protective devices are adjustable for difference packing purpose by program.