FPCM Series: Coil Master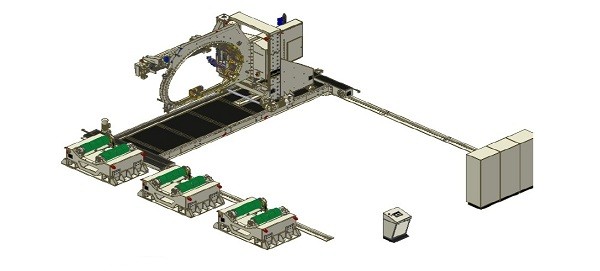 Packaging Theory:
Application: This machine is with two blocker roller station specialized for orbital wrapping of steel coil, to make the package dustproof, well protected and decorated. Installation: Place the machine on the flat ground surface.
Scope of work:
1. Conceptualization of the system
2. Design of the system & modules
3. Detail analysis of each module
4. Preparation of General assembly layout
5. Cycle time analysis
6. Detailed Engineering
7. Preparation of the Bill-of-Material
8. Assembly and part drawing of different modules
9. Manufacturing & Quality check
10. Purchase of bought-out items
11. Assembly of modules at our works
12. Integration of the modules
13. Testing and trial of modules
14. Inspection of the modules in running condition
15. Packing of assembly
16. Dispatch
17. Supervision of Mechanical & Electrical Installation
18. Commissioning.
19. Testing of the total system at customer's site
20. Handing over the system
21. Commissioning trial
22. Training to operation engineers.
STEEL COIL MASTER WRAPPING MACHINE TECHNICAL DATAS 一、 Basic description 1. Name, model, quantity Equipment name:Steel coil wrapping machine Model:GD2000 Quantity: 1set 2.Basic parameters of the machine The basic parameters are as follows, but not binding to this: 2.1 Steel coil wrapping machine form ² Hoisting in and out the object. 2.2 Basic features of the machine l PLC & HMI are adopted interface operation.
Related machines: Steel coil wrapping machine
Copper Coil
packaging line
Copper coil wrapping machine Steel Coil Master
Fhope own capability to streamline your packaging process--providing seamless transfer of both physical coils and their accompanying coil data. For more information about steel coil packing solution you can click here